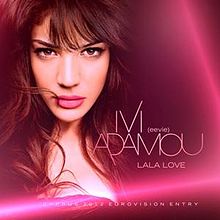 Loreen may have carried off the crown and title at this Year's Eurovision Song Contest in Baku, but Ivi Adamou and La La Love has turned out to be a surprise hit across the continent in the wake of the contest.
Sweden proved once again that they had what it takes in producing a contemporary hit with Euphoria, raking in the points and making a clean sweep across the board. But not to be outdone, sultry cypriot songstress Ivi Adamou has also been getting in on the act since her performance in Baku. Despite only finishing 16th with 65 points in the final, young Adamou must have made quite an impression, as her entry La La Love has gone on to be a hit in no fewer than 11 territories so far, topping the Swedish iTunes chart last week.
Sweden also had a hand in Adamou's success, the track being composed and written by an entirely swedish team consisting of Alex Papaconstantinou, Björn Djupström, Alexandra Zakka and Viktor Svensson. Papaconstantinou is Greek-Swedish and has previously written material for the likes of Anna Vissi, Antique, Elena Paparizou and Enrique Iglesias.
The ambitious songstress has managed to chart in the following countries (highest position in brackets): Austria (#47), Belgium (#12), Denmark (#38), Germany (#43), Finland (#16), Greece (#2), Ireland (#32), Norway (#16), Sweden (#11) and Switzerland (#66). Miss Adamou should be extremely pleased with the reception of her song and has clearly a sizeable summer hit on her hands. But another surprising and noteable achievement for the raven haired lovely is that La La Love has also managed to make British chart history. That's right, believe it or not, young Adamou is the first ever Cypriot act not to reside in the UK to break into the notoriously difficult UK top 100 singles chart. The buzz continues to build around her entry, with La La Love notching up 5.1 million views on Youtube so far and her fanpage on Facebook already collecting 107,000 fans.
The surprise success makes La La Love the second most succesful entry to emerge from this year's contest. Ivi Adamou hopes to replicate the success with her follow up single Madness, a duet between herself and Dimitris Domakos, pending release in late June/early July on Sony Music Greece records.