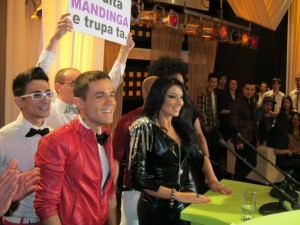 Many national selections have taken place and tonight it was now time for Romania to choose its entry for Eurovision Song Contest 2012. After an exciting show with 15 songs competing, Mandinga won the right to represent the country in Baku this year.
Finally, Romania made its decision for Eurovision 2012 and Mandinga will have the honour to represent the country and achieve a good result in May. The show started at 20:00 CET live from Bucharest, the capital of Romania. A total of 15 songs competed in the National Selection sung by one of the best artists in Romania. The Irish twins, Jedward, Anggun the French representative and Hotel FM who represented Romania at Eurovision 2011 were the special guests invited to entertain the Romanian public.
The Songs: 
1. Cătălin Josan – Call My Name
Cătălin opened the Grand Final with his sweet ballad Call My Name. He got the first place at the jury so he might win tonight if the public decides so. He was dressed almost formal and he looked really confident on stage.
2. Ana Mardare – If You Find Simple Words to Say
Ana Mardare was the next act to compete and her vocal abilities were really appreciated by everyone even though her ballad If You Find Simple words to Say was not that impressive. It's a clear fact that this song does not have what it takes to win tonight. She was dressed in a green dress and joined on stage by four backing singers.   
3. Viky Red – If You Ever Feel
It's now time for Viky Red to enter the stage with a strong soft – pop song that made a good impression to the public. Polls predicted that he will be in top three or even represent Romania in Baku this year. The vocals weren't that good but he put on a great show so he might earn a ticket tonight. He was dressed formally and was joined on stage by four singers playing different instruments. The stage looked great with his red piano.   
4. RPK – Singura Care
The first entry in Romanian is about to  enter the National Final this year and had a good reception from the public and everyone seemed to enjoy their performance even though, in my opinion, the song won't do so great in Baku if they win tonight. Singura Care is a rockish song with a good refrain and the singers were dressed formalyl, the woman in the background making quite a good impression.
5. Lucian Oros – The Best a Man Can Get
Lucian's song is a nice soft pop song with impressive lyrics and a good message hidden behind them. Sadly his performance was not appreciated by the Romanian public but he might earn some points from the jury, as they will probably give some points for his vocal abilities. He was joined on stage by a backing singer who played a lot of instruments and a lot of light effects were used to make the performance look better but still this won't be the winner tonight!
6. Raluca Ocneanu – Time is on My Side
Raluca's entry was written by the famous Romanian composer Mihai Alexandru and the song had it effect on the public. Her ballad had good lyrics and her vocals were not that impressive, forcing it too much…
7. Electric Fence – Sun-ta
Electric Fence enters the stage with their super energetic song which has the taste of folkloric sounds. In my opinion, this song has high chances to win tonight, bringing something new to Eurovision just like Moldova did in 2011 or in 2009. The band leader was dressed in a red jacket and the stage presentation was literally explosive!
8. Ovidiu Anton – I Walk Alone
Just like Lucian's song, this entry is not that impressive, reminding of the 90′ when you could listen to that sort of song all the time on the radio. Meanwhile, his vocals were quite impressive and I know that he will obtain a good result from the jury.
9. Miss Mary – Rollin
It was time for the youngest participant to make her debut on stage! Miss Mary has a strong pop song which slightly reminds of tAtU. She has good vocals and made quite an impressive show on stage!  
10. Mandinga – Zaleilah
Mandinga is the most popular band tonight and they strongly hope to win. Elena, the lead singer, has a good voice that might earn good points from the public and could do well in Baku. The stage presentation was impressive and personally I think they have what it takes to win tonight.
11. T&L – Twilight
T&L enters the stage with their ballad, Twilight. Larisa has an incredible voice though Gabriel seems to ruin the song and this might give it a big disadvantage with the public. The songs fits perfectly with Larisa's voice and they will sure end in the top 5 tonight or even win. Simple dressing but a strong connection between singers 
12. Ioana Anuta – Girls Don't Cry
Ioana has a pop song that is reminiscent of Serebro but her vocals didn't sound that great tonight. The song doesn't seem to have impressed the public tonight and the juries also. This song is suitable to enter JESC again 
13. Tasha – Say My Name
Tasha's Say My Name is a very good song with a catchy refrain but sadly her voice didn't do that great tonight. She may have a lot of fans but sadly I think that she won't do that well. She was dressed in a mysterious dress and joined on stage by 4 backing musicians!
14. Bianca Purcărea – Don't Say Sorry
Bianca's sweet ballad is the most anticipated tonight. Impressive vocals and very good performance, we may deal with winner here. It seems just like Romania's own C'est ma vie but with a stronger chorus. Bianca was dressed in a red dress and behind her was a pianist which gave the song a good charisma.
15. Ana Mardare – This Must be Love
Ana is the last of the artists to sing tonight with her second song in the competition, This Must be Love, which is considerably better than the first one. As usual, the vocals are amazing and the chorus made the song sound more powerful. The stage presentation was classy and suitable for this song.
The Show: 
The show started at 20:00 CET and ended just after midnight when Mandinga won the right to represent Romania at Eurovision 2012. Jedward and Anggun made an appearance entertaining the Romanian public with their Eurovision songs. The show was presented by Gianica Corondan, Constantin Trofin, Iulia Pârlea and the "three terrors" Zory, Bogdan and Valentin. Also a contest was organized by TVR inviting 4 bloggers to write LIVE an article from the National Final (One of them is me, Florin from Romania) 
The Results: 
The results came right after midnight when everyone found out that Mandingo will go for Romania in Baku!