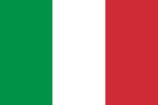 Today, the EBU announced the probable return of Italy to the Eurovision Song Contest. National broadcaster RAI has not entered the contest since 1997, 13 years ago.
Last Friday was deadline day for broadcasters to make their intentions known, and, with no prior rumours of an imminent return, RAI submitted its application. However, this does not mean that Italy will definitely return. All broadcasters have until the end of the year to withdraw. Returning to the contest has been something that has been under constant discussion within RAI, and it is difficult to see why it would have put Italy forward to enter if the decision makers in RAI were only considering an entry. It would therefore be a surprise if RAI withdrew its nomination. The final list of participants will be released in the New Year.
Italy has won the contest twice. Gigliola Cinquetti won as a 16 year old in 1964 with Non Ho l'Eta. She was followed in 1990 by Toto Cotugno's win in Zagreb with Insieme 1992. The pair hosted the contest when RAI last organised the contest in 1991. The Italian entry has usually been selected by the forerunner to the Eurovision Song Contest, the Sanremo Festival. This year's festival climaxes on 19th February. Will the winner that night travel to Dusseldorf? We will soon know.
In celebration of the good news, you can relive some of Italy's finest moments in the videos below.