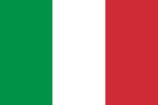 RAI, Italy's national broadcaster finally confirmed that Italy will take part at the Eurovision Song Contest 2013. After the country's comeback in 2011 there have always been rumours that Italy might withdraw again. Now it is official that there will be an Italian entry in Malmö.
Today RAI, the Italian national broadcaster announced that the country will participate at next year's Eurovision Song Contest in Malmö. Several Eurovision fans will be relieved about this information.
It is yet to be announced how Italy will choose their representative. In the past two years the Italian representative was announced during the popular San Remo Festival. A selection through the format "The Voice" is unlikely as the show will not be finished before the official deadline.
Italy is one of the founder members of the Eurovisin Song Contest and took part at the very first edition in 1956. The country has won twice: In 1964 with young Gigliola Cinquetti and Non ho l'eta and finally in 1990 with Toto Cutugno and Insieme: 1992. After coming 4th in 1997 Italy withdrew from the contest, but finally came back in 2011.
As a part of the Big Five Italy is automatically qualified for the Eurovision final which will be held on May 18th, 2013 at the Malmö Arena.