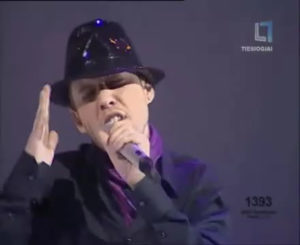 Dainu Daina was the name of the game this time in Lithuania. 10 songs competed to represent the country at the 2009 Eurovision Song Contest. Sasha Son won with the song Pasiklydes Zmogus. Time will tell if we will see an English version being made for the contest in Moscow.
The Lithuanian final started with a kind of lottery. The contestants chose letters, which included running draw positions.
Uosileli Zaliasai by Jonas Cepulis got the first number. This entry was like an ambient ethno song, with three singers in ethnic costumes and many dancers. From the Distance by Donatas Montvydas was the second song drawn, and he sang a beautiful ballad in black clothes.
Nelyteta Viltis by Darius & Violeta was a pop ballad in Lithuanian. Darius wore black and white, while Violeta was in a white and black dress. Saules Kliosas performed their entry, Saule. It was a funky pop song, which was guite uptempo.
Aurelija performed her entry, Part of Me, in a plum blue dress. That song has a touching chorus and it was quite a typical midtempo pop song. The sixth entry was Danguje's entry, Meiles Simfonija. It was also midtempo, but more melodic than Aurelija's entry.
After this, Karina Krysko & Milanno gave a memorable performance of Kelias Pas Tave. They had some tricks and it could be an advantage for the contest. Linas Adomaitis sang his entry, Tavo Spalvos. It was reminiscent of a mix of schlager, soul and rock.
Sasha Son sang his entry, called Pasiklydes Zmogus. He wore a white and black costume, and ended his entry with a gimmick. Last but not least, Ruta Sciogolevaite sang her entry, Redemption, which could be described as a very international ballad.
After a voting process where votes were given out region by region, Sasha was declared the winner. You can hear the song below.