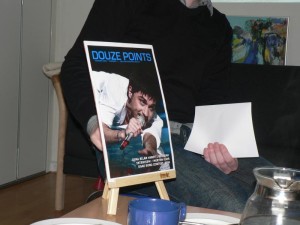 After the two Danish fan clubs merged into one the members have been voting on the best name for the magazine that will launch later this summer. The new name was presented on a meeting in Århus Saturday and its "Douze Points" for the Danes.
The members of the now only one Danish OGAE club, Melodi Grand Prix Fans, had been voting among the five names Angelique (After the Danish Eurovision Song Contest entry from 1961), Douze Points, Eurovision Magazine, Grand Prix Magazine and Refrain (After the first ever Eurovision Song Contest winner by Lys Assia who for many years was living in Denmark as she was married to a Dane).
31 members managed to vote within the short deadline and the result was presented Saturday evening at a meeting in Århus. Douze Points won with 13 points, in second place came Refrain with seven points. Eurovision Magazine and Angelique both got four points while Grand Prix Magazine finished last with three points.
Despite a forecast promising rain the weather turned out to be fine enough for a barbecue and the 11 fans who went for the meeting had a nice day. The president, Jacob Holm Laursen had prepared a quiz for which the members were divided onto two teams depending on their height. The "small" team won clearly, but as there was no real prize to win there were no bad losers either.
The meeting was held under the theme "Jeg er også dansker" (I am also Danish) and after dinner we were all voting for national final entries in other countries that didn't made it to the Eurovision Song Contest, but had some kind of Danish connection like a Danish singer or a Danish songwriter.
10 songs had been selected and after giving points in Eurovision style 1-8, 10 and 12 a result was ready: Vanilla Ninja's Club Kung-Fu from the Estonian national final 2003 became a clear winner with 104 points despite some being in doubt about if it really was written by a Dane. In second place came Sanne Salomonsen's Higher Ground from the Swedish final 2003 while third place went to MiDo's Sagapo from the Romanian final 2006.
The members from Sealand had to catch an early train for Copenhagen and when they left the rest of the fans turned the party into a gathering of football fans. They watched the Euro 2008 quarter final between The Netherlands and Russia via the protector that put the match up on the wall. Everyone was cheering for The Netherlands and it certainly proved that, at least in Denmark, many Eurovision fans are also football fans!
Pictures from the OGAE Denmark meeting in Århus 21st of June 2008
Links