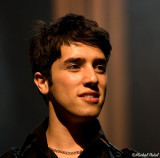 Israel's Channel 2 announces more details of the selction for Oslo.
Israel's national final, on 14 March, will again consist of four songs.  Harel Ska'at will perform all four in a special preview programme, also on Channel 2, on Saturday 6 March.
The details of the four songs are:
"Le'an?" (Where to?) – Text: Sahar Hagay & Eyal Shahar, Music: Eyal Shahar
"Millim" (Words) – Text: Noam Horev, Music: Tomer Hadadi
"Ela'yich" (To you) – Text: Noam Horev, Music: Ohad Chitman
"Le'hitkarev" (To get closer) – Text: Sahar Hagay, Text: Nitzan Keikov
The most illustrious name among the writers is Eyal Shahar, who wrote Shiri Maymon's Israel entry "Hashaket shenishar".  Among the jury that selcted the song was Gali Atari and Dana International's producer Elly Abramov.
Israel will perform in the second semi-final this year.