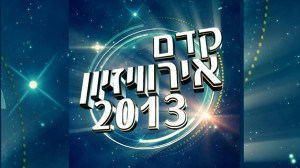 Tonight the third semi-final of the 2013 KDAM was held. Three more acts qualified for the final which will be held on March 7th. Just like in the two previous semi-finals the fourth ranked will have another chance to reach the final in the second chance round on March 3rd.
The songs:
1) Liran Notik – Ten li siman
Tonight's opener is a midtempo ballad. Liran who is dressed in black pants and a white shirt is accompanied by three female and two male backing singers who are all dressed in black clothes. The backdrop is black and yellow. The first part of the song is sung in English. With the second verse it turns into Hebrew. Liran and his backing singers do some kind of dance choreography we have seen quite often from Israeli artists at the Eurovision Song Contest.
2) Meital de Razon & Asi Tal – Todo la noche
Song no. 2 is an uptempo dance song with ethno and latino elements. It features three languages – English, Hebrew and Spanish. Meital and her four female backings/dancers all wear corsages and gold coloured pants and deliver us a special choreography to this catchy song.
3) Alon Jan – Live my life
Live my life is a dramatic ballad which starts very classical with two female violin players. Beside them Alon has three female backing singers on stage. While all women are dressed in very elegant cream-coloured dresses Alon himself wears a blue suit.
4) Bezalel Raviv – No war
Song no. 4 starts as a gentle ballad. While the verses are sung in Hebrew, the chorus is in English. After the first chorus the song turns into midtempo with a decent beat. The bridge features some ethno elements. Bezalel who wears a white suit has two backing singers on stage who are dressed completely in black clothes.
5) Hadar Ozeri – Ten maa'wal
Next up is Hadar Ozeri with a very ethno and oriental inspired song. Her show on stage reminds a bit of Anggun last year. Hadar wears a short white dress and is accompanied by two male dancers who are bare-chested. In the background there are three female backing singers who wear elegant long black dresses.
6) Michael Harpaz – Dear Mom
This song is a soft ballad with strong ethno elements. Michael starts the song sitting at the piano. After the first chorus he stands up. The song is mainly sung in Hebrew. Only at the end it turns for one chorus into English. Michael and his three male backing singers are dressed in black suits.
7) Nicki Goldstein – We are one
We are one is a very catchy midtempo ballad with a strong chorus. While the verses are in Hebrew, the chorus are sung in English. Nicki is dressed very casual wearing black pants combined with a white t-shirt and a black leather jacket. On stage he is accompanied by a band consisting of two male guitarists, one female keyboarder and a male drummer.
8) Hila Ben David – Beautiful
This is tonight's power ballad. Hila is alone on stage, only accompanied by a pianist. She wears a very elegant black dress and delivers a strong performance of this classic ballad which is partly sung in Hebrew and English. For the first time we hear scene applause during on the songs.
9) Julietta – Fantasia
As a contrast to the last ballads we finally hear a very catchy uptempo song again. During the first verse Julietta who wears a short cream-coloured dress is alone on stage. As soon as the chorus starts five male dancers join her for a typical dance choreography. This song is also partly sung in English and Hebrew and also features strong ethno and oriental elements.
10) Moran Mazor – Rak bishvilo
This evening is concluded by another ballad. Moran is dressed in a tight black dress with a deep décolleté. On stage she is joined by a piano player and two backing singers. In contrast to most of tonight's other competitors this song is completely performed in Hebrew language and is vocally one of the highlights.
The show:
The show started at 20:00 CET (21:00 local time) and was presented by Orna Datz (Israel 1991) and Ron Shachar. Before the presentation of the songs started the jury members were introduced, among them Moshe Datz (Israel 1991), Dafna Dekel (Israel 1992), Ilanit (Israel 1973 & 1977) and Mira Awad (Israel 2009). After the last song was presented there was a reprise of all entries followed by a short interval act with traditional Israeli music and a commercial break.
The results:
Before the annoucement of the votes started there was a short sum up of previous Israeli Eurovision entries. Tonight's votes were determined by 50:50 jury and televoting. The lucky ones who go straight to the final on March 7th are:
Hila Ben David
Meital de Razon & Asi Tal
Moran Mazor
Nicki Goldstein came fourth and will compete again in the second chance heat on March 3rd.
Israel at the Eurovision Song Contest:
Israel first participated at the Eurovision Song Contest in 1973 and
have competed 35 times so far.  They have won the contest on three
occasions: In 1978 Izhar Cohen & Alphabeta with A-Ba-Ni-Bi, 1979 Milk & Honey with Hallelujah and in 1998 with Dana International and Diva. Shir Habatlanim by comedy duo, Datner & Kurshnir, caused controversy due to it's joke element with the Israeli Minister of Culture threatening to resign his post. Israel have had several good results.  Duo Datz finished thired in 1991 with Kan and Happy Birthday by Eden finished in fifth place in 1999. Shiri Maymon's big classy ballad, HaSheket SheNish'a, went all the way to fourth place.
Israel have failed to make it to final in the previous two years, 2011 and 2012. In Malmö the country will compete in the second semi-final.