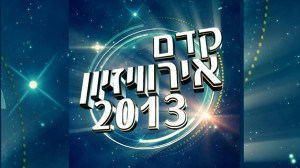 Israel held the second semi-final of Kdam 2013.  Three more songs qualified for the final on 7 March. The fourth placed song goes in to a wildcard selection show on 3 March.
The songs –
1. Sarit Avitan – My Love 
A mid tempo song to begin. Sarit is wearing a long gold dress and joined by three girl dancers and two female backing vocalists.  A strong opening to the show. 
2. Chen Cohen – The Heart Wants
Chen is wearing a black jacket and trousers.  This is an ethnic and slow paced ballad.  A summer type sound in the Hebrew language. 
3. The Ultras – Happy Birthday
Three male and three females move around the stage with this modern jilty type rhythm repeatedly singing Happy Birthday! 
4. Ran Sandler – Find A Way
A classy ballad by Ron.  He is wearing a black jacket, white shirt and black trousers.  A nice and slow and melodic ballad that could do well here. 
5. Moran Mazoz – Give Me A Sign 
Moran is wearing a long white/cream dress.  She is joined on stage by three male and one female backing singers. The song is a power ballad.  Emotional performance and the audience really like this.  It has a strong melody and sounds like a Eurovision ballad of the 80s. 
6. Soul Key – Living One Time
Male duo on stage joined on stage by a female DJ with decks and male trumpet player.  The song has sax and strong dance rhythm.  The music is similar to the dance style that originates from Romania and currently popular throughout Europe.  This could easily be a big summer hit.
7. Haya Samir – Happy and Sad
Haya is alone on stage dressed in white jacket, black top and grey trousers with black boots.  She has a deep tone to her voice.  A slow tempo song "Am I Happy or Am I Sad" is repeated throughout the song.  A haunting and curious song.
8. Vladi Bleiberg – We Are Free 
A lively song begins with a falsetto intro from Vladi.  The song errupts in to a dancefloor filler.  We have two male and one male backing singer with two male dancers.  Vladi is wearing a black leather jacket, white shirt and black tie and black trousers.  A familiar dance style song that works very well and the crowd enjoy this one too.
9. Yarden Tzur – Replace You
Yarden is wearing a long red dress and is sitting on a chair.  The song begins with an accordion intro.  She is joined by a quartet of instrumentalists – two guitarists, accordionist and a washboard player.  A gentle song with a lilting melody. 
10. Roni Silver – In My Heart 
Extravagant stage performance by Roni and her dancers.  She enters the stage being carried by her male dancers like an Egyptian queen.  Then she removes her gown and wearing a gold short outfit.  There is one girl backing vocalist.  An ethnic rhythm with lots of style and a strong rhythm.
The show  –
The show started at 20:00 (CET) and lasted one hour and a half.  The interval had an 80s theme with a performance by Asaf Hertz of some Israeli entries from that era.  A quality show of ten, classy and popular songs.  IBA should be congratulated for the strong efford they are making with the semi-final format this year.
The results –
The voting is a combination of jury and televoting.  The three acts directly through the to final on 7 March are –
Vladi Bleiberg
Ran Sandler
Moran Mazoz
Yarden Tzur goes in to the second chance competition on 3 March.  
Israel at the Eurovision Song Contest –
Israel first participated at the Eurovision Song Contest in 1973 and have competed 35 times so far.  Israel have won the contest on three occasions. In 1978 Izhar Cohen & Alphabeta with A-Ba-Ni-Bi, 1979 Milk & Honey with Hallelujah and in 1998 with Dana International and Diva.
Shir Habatlanim by comedy duo, Datner & Kurshnir, caused controversy due to it's joke element with the Israeli Minister of Culture threatening to resign his post.
Israel have had several good results.  Duo Datz finished thired in 1991 with Kan andHappy Birthday by Eden finished in fifth place in 1999.  Shiri Maymon's big classy ballad, HaSheket SheNish'a, went all the way to fourth place.
Israel have failed to make it to final in the previous two years, 2011 and 2012.  
You may also like to read –