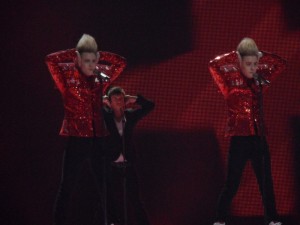 The 5 songs that, on the 24th of February, will compete to represent Ireland at the 2012 Eurovision Song Contest, was premiered this afternoon on Irish radio. This gave the first indication of whether or not we are likely to see a comeback from either Jedward or Donna McCaul.
This afternoon at 16:00 CET (3 pm local time) RTÉ Radio 1's The Mooney Show revealed the five songs competiting to represent Ireland at the 2012 Eurovision Song Contest. The songs were played in its full version.
The show:
The programme, hosted by Derek Mooney, started out offering listeners the chance to win 5000 euros if they could answer if it was true or not that Dustin The Turkey represented the country at the Eurovision Song Contest. This was of course true although it did not manage to qualify for the final in 2008 with the song Irelande Douze Pointe. After hearing Te Deum it was time to look back on some of the better moments for Ireland at the international contest. With a record of 7 victories, where three of them came in a row, they do have some kind of a fantastic history to remember.
The voting format was also explained today. Ireland will have 5 reginal juries, which will decide 50% – the remaining 50% of course being the televoters.   
The songs (In order of apperance):
1. Maria McCool – Mistaken (Written by: Edele Barrett)
The first song starts out a bit mysterious, which makes you think of the 1995 Norwegian winner Nocturne. The very Irish sounding tunes continues through this ballad, which should go down well among fans, but it is a song that will either do really well or fail big time. It has been a while since we heard something like this at the Eurovision Song Contest and it can be hard to predict just how well it could do in Baku in May. Maria has a very interesting voice, which really sounds good.   
2. Donna McCaul – Mercy (Written by: Marten Ericsson, Peter Mansson, Lina Ericsson, Bill Hughes)
The next song starts out like dance music immidiately showing that it is not going be something like Donna's 2005 Eurovision Song Contest, but it is clear that Donna's voice had matured a lot since then. Where the first song had the national feeling attached to it this does pop dance song isn't exactly what people asociate with Ireland, but it is catchy and might just be what will work in order to pick up vores in particular from Eastern Europe.     
3. Andrew Mann – Here I am (Written by: Greg French)
We continue with song number 3 sung by Andrew Mann. It starts out quite interesting, but just as you are expecting it to buid up on the chorus it holds back. It is not a sing a long song, but it is well produced and he sings well on this ballad with a bit of rock tune over it. For the Eurovision Song Contest it will probably however drown should there be just a few more ballads in the contest – and it has the thing over it that it needs to grow for people to really appriciate it, something there is not time for in the Eurovision Song Contest.   
4. Úna Gilbey & David Shannon – Language Of Love (Written by: Eanan Patterson, Julian Benson)
Song number 4 is sung by a duo teamed up for this occasion. It is a pop ballad song, which is build up quite simple. It is easy to sing a long on the chorus and most of all, it is easy to remember, something that is quite important at the Eurovision Song Contest. They sing well together and their voices are really in harmony.   
5. Jedward – Waterline (Written by: Nick Jarl)
Last song competing in Ireland this year is performed by Jedward. The energetic twins is back with a song, which is a bit more uptempo, if possible, than Lipstick. This pop song is really produced, some might say that it is actually too good for Jedward, but they do deliver a solid version where their voices sounds significantly better than last year. It will be interesting to see just how they will perform this on stage as it is more serious than most of their other songs. It is a very strong song and it looks like they will be the ones to beat in the Irish final this year.    
As usual they operate with a coach for each act. Four of the participants have their coach being their songwriter, while it for Jedward is Linda Martin, Eurovision Song Contest winner from 1992 with the Johnny Logan written song Why Me?. Donna McCaul will be coached by Bill Hughes, and Úna & David by Julian Benson. For Maria McCool it is Edele Barett, while Greg French is taking care of Andrew Mann. 
The Irish national final will be held on February the 24th in the show The Late Late Show: Eurosong 2012. Two of the five acts competing have already represented Ireland at the Eurovision Song Contest. Donna McCaul did so back in 2005 together with her brother Joseph, just called Joe. With the song Love? they finished 14th in their semi-final, which meant that Ireland for the first time was not to be found in the final. Things went significantly better for Jedward last year, who qualified for the final where they came 8th with the song Lipstick.