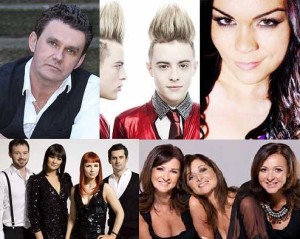 Ireland is the most successful Eurovision country. They won the contest seven times, but since 2001 they have not done very well including several failures to reach the final. That is why Ireland changed their selection procedure for this year.
The Irish broadcaster RTÉ invited five music professionals with a lot of experience. These mentors had the opportunity to pick artists and songs of which they believed would have good chances in the Eurovision Song Contest.
The acts we will see tonight are:
Don Mescall – Talking with Jennifer
Written by Ronan Hardiman & Don Mescall
Mentor Ronan Hardiman
Don Mescall is mostly known as a songwriter. He wrote for example several songs for Boyzone, the Backstreet Boys and Ronan Keating. In Ireland he is also known as a singer and is a regular guest in Irish TV shows. Mentor Ronan Hardiman says about him: "Don is also an amazing singer, with a very distinctive voice and is a very experienced charismatic performer."
Jedward – Lipstick
Written by Dan Priddy, Lars Jensen And Martin Larson
Mentor Caroline Downey Desmond
The duo Jedward, consisting of the 19 year old twins John and Edward Grimes seems to be the most known act. In 2009 they took part in the UK X-factor show and finished 6th. In January 2010 they released their first single Under pressure (Ice ice baby) feat. Vanilla Ice which topped the Irish charts and reached the second place in the UK single charts. Mentor Caroline Downey Desmond explains: "I chose Jedward as my Eurosong act as I wanted to bring energy and fun to the competition and believe the rest of Europe will love them."
Bling – Shine On
Written by Patrick Mahoney
Mentor Willie Kavanagh
The group Bling was recently founded by the record label EMI. They are a quartet consisting of young musicians. As their participance was kept secret until the end and was at first even published as the "mystery act" there are no further information about this act. Their mentor Willie Kavanagh tells: "For Eurosong 2011 I wanted to create a brand new Irish act and use a new emerging Irish songwriter as I feel that new music is the essence of what the Eurovision Song Contest is about."
The Vard Sisters – Send Me An Angel
Written by Liam Lawton
Mentor Liam Lawton
The Vard Sisters released their first album Heavenly in 1998 which contained a mixture of classical and modern songs. The album received six times platinum and was sold about 120.000 times. The Vard Sisters have already performed for celebrities such as George Best, Westlife, the former US president Bill Clinton and a lot more. Mentor Liam Lawton says: "I've really enjoyed working with The Vard Sisters in the past. They have recorded a number of my songs and they were runners-up the only other time that they entered the competition, with a song that I had also composed."
Nikki Kavanagh – Falling
Written by Christina Schilling, Camilla Gottschalck, Jonas Gladnikoff and Hanif Sabzevari
Mentor David Hayes
Nikki is a professional singer who regularly works with the RTÉ Concert Orchestra & The Modern Gospel Ensemble. She has already toured in Ireland, Europe and the United Arab Emirates. Last year she was backing singer of Niamh Kavanagh (despite the same name to relation to her). In 2008 she was backing singer for Marc Roberts in the Irish final. Mentor David Hayes expresses: "Nikki's vocal quality, her experience, her great looks, and amazing stage presence, will all culminate in an incredible presentation on the night."
The show will start tonight at 21:35 CET. The winner will be selected by a combination of televoting and a regional jury.