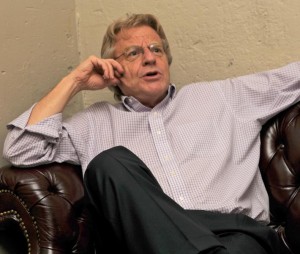 RTE pulled off a coup last year in managing to be the only broadcaster to lure 2007 winner, Marija Serifovic to their national final in 2008. They've managed a similarly big name star to join the judging panel this year. Jerry Springer will be part of the three person expert panel in Eurosong 2009.
Springer is most famous for presenting hit American shows, 'America's Got Talent' and 'The Jerry Springer Show'. He'll join 1992 Eurovision winner, Linda Martin, and RTÉ Eurovision commentator, Marty Whelan, in commenting on all six final songs.
RTÉ has confirmed that there will be a green room for footage of the acts at voting time and that they have designed a scoreboard for the new selection system.
The four regional juries will be based in Dublin, Cork, Limerick and Sligo. All four juries will be hosted by children's TV presenters. Each jury will comprise of three members. A Eurovision fan, a Eurovision singer or songwriter and a nationally-known broadcaster. Each jury will award a set of points of 10, 8, 6, 4, 2 and 1 in order of the members combined preference.
The national televote will make up 50 percent of the overall results and will therefore award 40 points to the most popular song. 32 will go to the second song, 24 to the third, 16 to the fourth, eight to the fifth and four to the bottom placed song in the eyes of the public.
The six songs for Eurosong 2009 were debuted on RTÉ Radio One this afternoon. The Mooney show broadcast all six entries for the first time. Paul G. Sheridan, Irish Eurovision expert, and Karl Broderick, author of Ireland's 2005 Eurovision entry, Love, were in studio to comment on each of the songs.