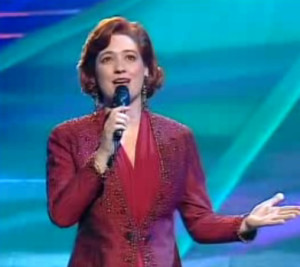 Ireland has been promising a lot for since their first rehearsal on Day 4. Today Niamh and her crew took their second rehearsal in the Telenor arena and were vocally spot on again.
Niamh and her backing singers didn't wear their stage outfits again today but they were shown to the cameras. She will wear a long purple dress that seems to fall pretty straight and then flow out at the bottom to cover the platform that Niamh will stand on. There is some gold decoration around the neck as well.
The stage is still golden and green at different times with a hint of red near the end. There was a lot of support for Niamh in the arena. She thanked the audience for the rapturous applause before leaving the stage.
This is still looking like a certain qualifier and a possibility for the win. If Ireland has the misfortune of being drawn near Norway then the game is up for btoh countries. For now, it's looking good.