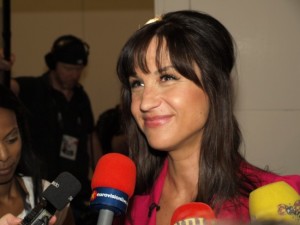 Petra Mede will be the hostess of the 2013 Eurovision Song Contest shows. Today she was introduced to the media at a press conference in Malmö. She was joined by show producer, Christer Björkman, and scriptwriter, Edward af Sillen.
Christer advised that very soon after Loreen had won Eurovision in Baku in 2012 they knew who they would like to present the the contest in Sweden.
Petra was asked about her background.  She is an an all round entertainer. She is a comedian, dancer and television presenter.  She was the host of the 2009 Melodifestavalen shows in Sweden.  She is a very popular personality and was also voted the best tv comedian in Sweden in 2009.
She also combines all of her busy entertainment work with being a mother. Petra recently gave birth to a baby girl.  Everything is very hectic for her at this time but she is enjoying every moment and her family are giving her lots of support.
Petra's dresses for the three shows have been prepared by top fashion designer, Jean Paul Gaultier.  It was hinted they could have an influence on this year's motto of We Are One and butterflies.
Her scripts have been prepared by Edward af Sillen, who was present at the press conference.  Edward and Petra have done lots of research and viewing many old Eurovisions to gain ideas.  Any humour will be assured that the audiences in all countries can laugh together and not at each other.
Petra was asked if she can speak French.  Her reply was perfect.  She spoke very fluently to the question in the French language.
Petra also advised she would like to go in to acting in the future but right now she is giving her total focus on Eurovision 2013.