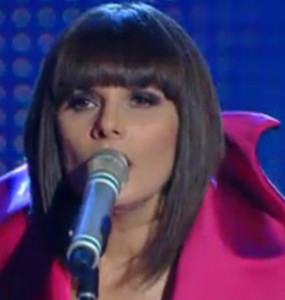 This evening saw the opening night of the 62nd Sanremo Festival.  All 14 the artists in the 'Big' section for well-known artists performed. The 8 'Giovanni' (for new singers) will sing tomorrow. It is likely that the Italian entry for Baku will be among these eight songs.
Almost an hour of the show had passed before the first singer took to the stage. Dolcenera, a former 'Giovanni' winner herself in 2003, had the honour of opening the festival with herself composed song, Ci Vediamo a Casa. By the end of the evening, two singers were due to be eliminated from the festival at the hands of the 'guria demoscopia', a group consisting of members of the public of varying ages who had been given the top tier of the Teatro Ariston sop that host Gianni Morandi could talk to them during the evening.
The singers performing tonight (not in order of performance) were:
Arisa – La Notte (G. Anastasi)
Samuele Bersani – Un Pallone (Samuele Bersani)
Pierdavide Carone e Lucio Dalla – Nanì P. Carone, L. Dalla)
Chiara Civello – Al Posto del Mondo (C. Civello, D. Tejera)
Dolcenera – Ci Vediamo a Casa (Dolcenera)
Emma – Non è l'inferno (F. Silvestre, E. Palmosi, L Sala)
Irene Fornaciari – Grande Mistero (Van De Sfroos)
Eugenio Finardi – E tu lo Chiami Dio (Roberta Di Lorenzo)
Gigi D'Alessio e Loredana Bertè – Respirare (G. D'Alessio, V. D'Agostino, G.D'Alessio)
Marlene Kuntz – Canzone per un Figlio (Cristiano Godano, Luca Bergia, Riccardo Tesio)
Matia Bazar – Sei tu (P. Cassano, F. Perversi, G. Golzi)
Nina Zilli – Per Sempre (R. Casalino, N. Zilli, R. Casalino)
Noemi – Sono Solo Parole (Fabrizio Moro)
Francesco Renga – La tua Bellezza (Francesco Renga, Diego Mancino, Dario Faini)
Notable names included former winners Matia Bazar (who were the last act to perfrom) and Francesco Renga , and Loredana Berte, sister of the late Mia Martini. Although Luvia Dalla, who last performed in Sanremo in 12972, was credited as an artist, he only conducted the orchestra.
Technical problems forced the cancellation of the results, so all 14 singers are still part of the festival.