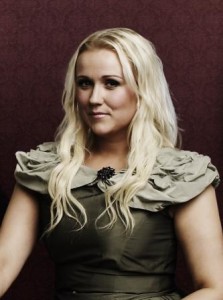 In the run up to Christmas, many well known and much loved Icelandic stars have been involved in the annual Icelandic Christmas music project Frostrósir. The idea first took shape in 2002 when a concert was first held in Hallgrímskirkju, Reykjavík's cathedral and the response was beyond all expectations.
The project involves popular artists embarking on a nationwide tour, creating a festive atmosphere wherever they perform. In 2006, Frostrósir became an annual event and both Icelandic and foreign musicians were invited to Iceland in order to celebrate the season performing music that conveys the spirit and message of Christmas. The project saw its most succesful year in 2007, with the concert being broadcast in 20 countries covering 4 continents. That year also marked the fifth anniversary of the event, and led to the first national tour.
This year's tour has been a milestone in the history of the event with such prolific artists such as Hera Björk (Iceland 2010), Friðrík Ómar (Iceland 2008), Regina Ósk (Iceland 2008), Ragnheiður Gröndal (Söngvakeppni 2003, 2010), Faroese chanteuse Eivør and Margrét Eir (Söngvakeppni 1992, 1993).
The event has broken a string of Icelandic ticket records, with over 20.000 coming to see the shows in 2009, no mean feat for an island nation with a mere population of 300,000! This year has seen another nationwide tour starting on the 1st of December and culminating on the 17th of December, playing at venues in Ólafsvík, Ísafjörður, Selfoss, Eskilfjörður, Egilsstaðir, Akranes, Vestmannaeyjar, Reykjanesbæ, Varmahlíð, Húsavík and Akureyri . The clip you can see below is of Friðrík Ómar's stunning enterpretation of Tommy Körberg's 1988 classic Stad I Ljus, translated to Vetrarnótt (A Winter Night), especially for Frostrósir 2010.
Links