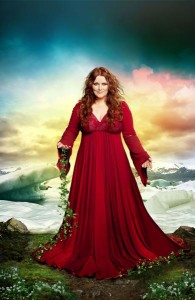 Icelandic diva supreme Hera Björk has made quite a splash in the USA this last week. And as if one Eurovision star wasn't enough to satisfy American appetites, Páll Óskar was there as well!
It was in conjunction with the gay pride celebrations in New York that Hera Björk made the trip across the pond to appear at the event. Hera Björk flew to the Big Apple a week or so ago to promote and perform her latest single, Feel The Love Tonight, which has been adopted as the official theme song for this year's Pride celebrations. It has been released by her record label Hands Up Music and is already available for download at iTunes. The song also features Haffi Haff, who performed in Söngvakeppni Sjónvarpsins in 2010. The song has been penned by none other than Icelandioc pop supremo Örlygur Smári, who also composed the Icelandic entries in 2000, 2008 and 2010. She also took the opportunity to make an appearance at the Swedish Midsummer celebrations together with Norwegian colleague, Anine Stang.
From NYC the journey continued onto Los Angeles, where Hera Björk will also be making a number of appearances at various events around California. The popular artist will be making an appearance at The Abbey on the 1st of July, after which she can be seen at Lookout in San Francisco on the 2nd. From there her journey will then continue on to Florida, where she will be putting in two pit stops; one at Twist South Beach on the 6th of July and the next day at Living Room. Busy times ahead for Hera Björk indeed, before she jets back to Europe to perform at Stockholm Pride on the 29th of July.
Links