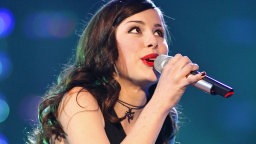 Two weeks after the German final it seems that Lena Meyer-Landrut's success continues. Five songs she performed during the Unser Song für Deutschland shows have entered the German charts. Her album is even number one.
Today the latest German Top 100 was released and we see Lena with a total of six songs there. The German entry for Düsseldorf Taken by a stranger managed to enter the charts directly on number 2. The ballad Push forward which finished as runner up in the final entered on number 15, while her songs Maybe, A million and one and Mama told me can be found on 53th, 55th and 58th position. Last year's Eurovision winner Satellite even re-entered the charts on number 86.
Lena's new album Good news which contains all songs of Unser Song für Deutschland is number 1 again of the German album charts after being number 2 behind Roxette last week.
This shows that Lena is still very popular in Germany. During the Unser Song für Deutschland shows a lot of criticism was expressed in the newspapers. Stefan Raab was accused to take advantage of Lena. The choice of the entries for USFD was criticized and it was written that the shows were extremly boring so that Lena will fail in Düsseldorf. Lena's obvious charts success expresses the opposite – she and her music still seem to be very popular.
Let's see if this hype will last until the final of the Eurovision Song Contest on May 14th and if Lena can score another good result for Germany.