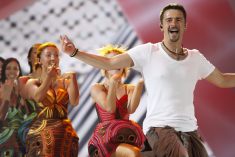 Pasha Parfeny and his five ladies were back on stage today, rehearsing for the final time before the dress rehearsals next week.  His time on stage was used wisely and this looked very confident.
Not much has changed here since the last rehearsal.  Pasha still moves around the stage usually followed by the five girls that accompany him.  Today they were in very short dresses that were heavily patterned.  Pasha was dressed simply in a white T-Shirt and brown three-quarter length trousers.
The set is very vibrant and slightly psychedelic.  We see stylised trumpets, reflecting the theme of the song.  We also see white angel wings and red lips.  These are very big graphics and are kaleidoscopic.
The girls at one point writhe around on the floor.  From the press area we can't exactly see what it happening, but there will be a camera directly above them to show off this move.  At the end of the song the five girls follow Pasha down one of the catwalks where the song ends.
The effect is very busy and very smooth.  The main problem appears to be with some of Pasha's pronunciation, as he has a very heavy accent.  This is a borderline qualifier so there is still a chance we will see this perform in the Grand Final on 26 May.
Stay tuned to Eurovisionary and our Youtube channel for a 3D recording of today's rehearsal.