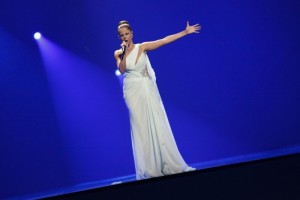 The 2012 Eurovision Song Contest was the most watched since 2008 with over 6.5 million viewers. Audience numbers peaked when Pastora Soler performed her song Quédate Conmigo at 22:27 CET with almost 9 million viewers. She achieved the tenth place with 97 points from 18 countries.
Pastora Soler is back in Spain after her participation in the 57th edition of the Eurovision Song Contest and with a very good feeling. First, for her flawless performance of the ballad Quédate Conmigo, achieving the 10th place; second, by the excellent opinion from critics and; thirdly, by the large audience who watched the event in her country, which has become the most watched since 2008, with over 6.5 million viewers. In addition, her performance was watched by 8,723,000 viewers.
As RTVE reported, the show topped the list of the most watched programs of the day and a total of 17,097,000 viewers watched the event at some point.
Pastora Soler, who achieved the best position for a Spanish representative for the last eight years, said that she would repeat a thousand times. She has been working hard for the last six months but she said that the Eurovision Song Contest has been a unique, exciting and wonderful experience.
Below you can watch our 3D video of Pastora Soler performing her 2012 Eurovision Song Contest entry Quédate Conmigo. As always, we strongly recommend watching this video in 3D, as it was recorded, to enjoy it to its fullest, but if you do not have a pair of suitable glasses this can easily be turned off in the player below and watch it in regular 2D.