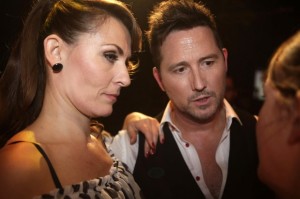 Is Strictly Come Dancing a dancing programme or is it an entertainment programme? That is up to discussion after Kaya Brüel and her dancing partner Steen Lund was voted out of the Danish edition. He is now so angry that he has decided never to participate again and is supported by other professional dancers. 
Friday evening Kaya Brüel, Danish national finalist from 2010, was voted out of Vild Med Dans, but according to her dancing partner Steen Lund they should not have been in the danger zone at all. He is angry that the four professional dancing judges base their votes too much on things like energy, attitude etc instead of the actual dancing skills and sends this message to them: "Stick to your profession and let the TV viewers judge subjective".
Steen Lund has decided that he does not want to take part in the programme again with the negative development seen this season and he is being backed up by other professionel dancers. Former winner dancer Thomas Evers Poulsen says about the swing dance all the participants had to do in Friday's programme that Steen and Kaya were the only ones who actually danced proper swing. Dancer Michael Olesen has also said that they were the only ones who really nailed the dance. Both Thomas and Michael and also other dancers sitting in the audience was quite clearly in disagreement as all the participating couples danced at the same time and the judges kicked Kaya and Steen out as the first ones. Afterwards they said that the judges decided purely on energy and fancy kicks though the other couples clearly danced more jive and rock'n'roll than actual swing and adds that the judges didn't do their job as they were suppose to judge on their swing skills. 
Today one of the judges Anne Laxholm says that there was nothing personal in it, but that Steen Lund and the other dancers needs to realise that it is an entertainment programme – not a dancing competition. Steen does not take it as a personal vendetta either, but he is saying that all through this season the judges have become more and more subjective, judging on other things than the actual dance and such a programme he does not want to be a part of anymore.