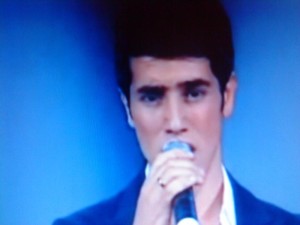 Israel tonight held their national selection, Kdam Eurovision 2010, to select their song for Oslo in May. Harel Skaat presented 4 songs. The winning song was selected by a combination of jury and televoting.
Harel became famous from an Idols type show in Israel, Kokhav Nolad. He finished in 2nd place in the show in 2004. He released his debut album in 2006 and this became an instant hit in Israel. He is now a very popular recording artist and personality in Israel.
The jury included a mixture of fans and members of the parliament. Expert comments were provided by Mira Awad (Israel 2009) and Tzvika Pik (composer of Diva 1998). So, to the songs
1: Le'an (Where to?) – (Eyal Shachar/Sahar Hagay & Eyal Shachar) – a moving ballad with a nice melody. The song really builds and it gives a chance for Harel to show his excellent vocals.
2: Elayich (Towards you) – (Ohad Hitman/Noam Horev) – the song starts slow and builds into an uptempo rock song with a beat that the audience really liked.
3: Le'hitkarev (Closer) – (Nitzan Kaykov/Sahar Hagay) – a lovely ballad that is introduced with violins and this song builds very nicely. A really nice song. Harel's voice is really strong again.
4: Milim (Words) – (Tomer Hadadi/Noam Horev) – another ballad. This was very well performed again. The audience gave this performance a big applause.
So, after the jury votes and televotes were announced it was decided the winning song to represent Israel at the 2010 Eurovision Song Contest will be Milim.