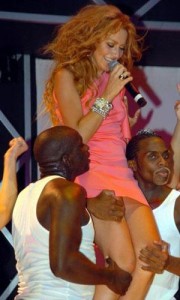 EuroVisionary contacted Hadise's manager, Arjan Postma, and now we are sure which countries the Turkish representative is going to perform in. The Turkish singer has eleven countries to go to for offical promo work with her Eurovision Song Contest 2009 entry, Crazy For You (Düm Tek Tek).
The Turkish representative, Hadise, will continue her offical promotion tour with her song, Crazy For You (Düm tek tek) at full pace as she tries to deliver a second Eurovision Song Contest victory for Turkey in Moscow this year.
After a successful promotion period in Malta, Hadise performed in the Greek national final, which was broadcast to the world by the ERT channel. During the live performances, she used the latest version of the song Crazy For You, the radio edit.
The promo tour is scheduled as follows,

* 1 March – Bosnia & Herzegovina (on song presentation show)
* 6 March – Amsterdam, The Netherlands
* 7 March – Frankfurt, Germany
* 18 March – Moscow, Russia
* 20 March – Stuttgart, Germany
* 27 March – Zurich, Switzerland
* 28 March – Paris, France
* 16 April – Sweden
* # April – Romania
* 17 April – Finland
* 1 May – Georgia
* 2 May – Azerbaijan 
Hadise's manager also added that they will also be trying to go to Portugal, Spain, Andorra, Montenegro, Bulgaria and FYR Macedonia, but confirmed dates are not yet in place.
For more information, stay tuned to EuroVisionary.