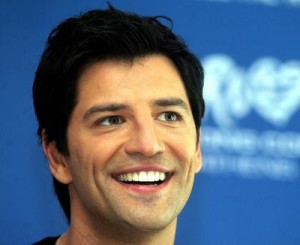 On Wednesday the 18th of February it will be decided which song Sakis Rouvas will sing at the 2009 Eurovision Song Contest. The Greek viewers will together with a jury decide among three songs in a show that will also feature several of his competitors in Moscow.
The Greek broadcaster ERT did officially today present the three songs that will compete in the Greek national selection on the 18th of February. They will all be sung by Sakis Rouvas who also represented the country in the 2004 Eurovision Song Contest held in Istanbul, Turkey. Back then he finished third with the song Shake It so there is quite a lot of pressure on him to do even better this time. Greece joined the Contest in 1974 and has won it once, in 2005 where Helena Paparizou's My Number One indeed ended up being the number one in the Contest held in Ukraine.
At the Greek final Sakis will sing the following three songs:
Out Of Control
Right On Time
This Is Our Night

Which song he will represent Greece with at the Eurovision Song Contest in Moscow will be decided via a combination of televoting and jury votes.
In the show several of the songs already chosen for the international contest will be presented live on stage. It has already been confirmed that the representatives from Montenegro, Belarus and of course Cyprus will be there as special guest star together with Kalomira who participated for Greece last year with the song Secret Combination.
Below you can see the videos of all three songs.