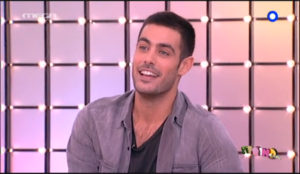 After the shock closure of Greek state broadcaster ERT back in June, there have been doubts as to whether Greece will participate at all in the next Eurovision Song Contest. However, in the last couple of weeks, there have been growing rumours about a Greek National Final complete with a line up of artists for Copenhagen.
Some of the names circulating include familiar Eurovision artists such as Loukas Giorkas who, together with Stereo Mike, represented Greece in 2011 and Kostas Martakis who lost out to Kalomoira in the 2008 Greek National Final. Other artists understood to be likely candidates for the 2014 edition of the Greek National Final are Cretan folk singer Nikos Zoidakis (initially thought in a duet with Kostas Martakis), Pop/Rock singer Myron Stratis, Pop/Rock/Eurodance band Wedding Singers and pop singer Crystallia, former lead singer of group OtherView.
This Monday, pop singer Kostas Martakis (pictured) appeared as a guest on Mega TV's daytime show Proino Mou. During the interview, one of the panellists could be heard asking the artist: 'Are you going to Eurovision then?'; the enquiry was lost amongst other questions but it did feed speculation. However, asked by network Star TV a couple of days earlier, the singer had stated: 'I didn't have an official proposal. Eurovision is an institution that I like a lot. I think it is a great honour for an artist to represent their country, but I cannot speak about something I don't even have a proposal for. I would like to go a lot (i.e. to Eurovision)'. It is not entirely clear whether, with this statement, the artist meant he had not been approached at all.
According to Star TV's Meletise To afternoon show, Greek participation in the 2014 Eurovision Song Contest is still 'hanging by a thread' while the EBU has given Greece a special extension in regards to an official announcement. Nevetheless, you can see what you think of some of the artists rumoured to be participating in the 2014 Greek Final by watching the videos below.
You may also want to read:
Greek police raids headquarters of former state broadcaster ERT
Malta to decide Eurovision entry on 8th of February
Bosnia and Herzegovina to return to Eurovision in 2014
RSI selects tis three candidates for the Swiss preselection
In my view
The rumours of a Greek Final being in the works is a very pleasant development for Greek Eurovision fans indeed. What with a proper state broadcaster not being yet operational and time running out for an official announcement, it appeared more and more likely that Greece might give a miss to the 2014 Eurovision Song Contest. However it seems that, given that costs could be covered by private sponsors like last year, Greece taking part in Copenhagen could be used as a sign of confidence for NERIT, the proposed new state broadcaster expected to go on the air in the next few weeks.

The opinion expressed in "In my view" are those of the author and are not necessarily the one of EuroVisionary.com.