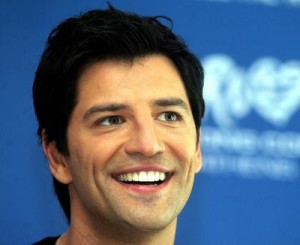 After a health scare yesterday, Sakis Rouvas, who was one of the first singers to be selected for the 2009 Eurovision Song Contest, sang the three songs competing to be the Greek entry.
Despite collapsing yesterday during rehearsals, Sakis was well enough to do the televised show as planned tonight.
Following a montage of past winners of the Eurovision Song Contest, Sakis sang the first song, Out of Control, which is a mid tempo, modern pop song. Next was Right on Time. This is a slower song and contrasts with his 2004 Eurovision song, Shake It. finally, he sang This Is Our Night. This is a song which sounds more like what one might have expected a Sakis song to be.
While votes were being cast from not only Greece, but around the world, a series of Sakis' rivals in Moscow showed what they had to offer. Jade (United Kingdom), Andrea Demirovic (Montenegro), Hadise (Turkey), Petr Elfimov (Belarus) and Chiara (Malta) all sang their entries for the Eurovision Song Contest.
The results showed a clear win for This Is Our Night.
This is our night: 61.18%
Out of control 25.88%
Right on time 12.94%
This Is Our Night will therfore be sung by Sakis in the second semifinal on 14th May. The song was written by Dimitris Kontopoulos, Craig Porteils and Cameron Giles-Webb. You can watch the song below.
Links