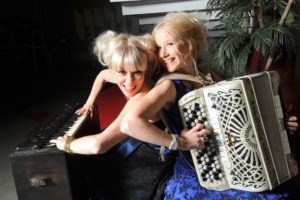 The two girls decided to foster an atmosphere which will be remembered on the stage. Wearing white costumes togther with the dancers, playing accordion and just making great sound with a song in their native Finnish langauge.
The two girls had long white dresses, one girl with violin had kind a similar dress, and the two male dancers were also in the white suits. One of the singers plays the accordion.
On the stage, we there are some decorations, as the lighting ball on which the singer with harmonic put her foot at the begining of the song. The background was colorful, with the many little spotlights and little lamps. Also the yellow circles on the background turning on periodicaly.
They had a choreography, but during most of the song they were situated in the same place, until the end of the song when they walk to the end of the stage, in a front of the audience quite quickly. The smoke was also used by Finland in this performance. The dancers were clapping during the song. At the end all together get at one central place and threw there hands up in the air.
Links