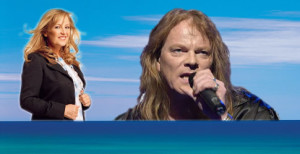 For those fans not going to Belgrade Stenaline is offering a special cruise that will feature previous Eurovision participants, a special Eurovision quiz and of course the opportunity to watch the final on sea together with other fans.
The ferry, Stena Saga will be leaving from Oslo at 19:30 the 24th of May and after a 2 and a half hour stay in Frederikshavn, Denmark early Sunday morning you will be returning to Oslo with arrival time at 18:30. Should you want to you can of course chose to get off in the North Jutlandic city.
Stenaline is offering a big screen that will broadcast the final live and to create just the right Eurovision mood previous winner Hanne Krogh, who won the Contest in 1985 with the song La det swinge as one half of the duo Bobbysocks and three times participant, Eirikur Hauksson will be performing. For those with a good Eurovision knowledge there will also be a special Eurovision quiz to take part in.
Eirikur Hauksson and Hanne Krogh has performed together before as they were both a part of the group Just4Fun that represented Norway in the 1991 Eurovision Song Contest with the song Mrs. Thompson.
Ticket prices start at 440 NKR plus cabin and dinner and you can book your ticket through Stenaline.
All through the spring and early summer Stenaline is offering various entertainment on the ferry that sails between Norway and Denmark and aside from this Eurovision/Melodi Grand prix cruise they also offer a special 90's cruise, an Irish cruise or what about the Swedish cruise featuring a well known name as Basshunter?
Every Tuesday in April Norwegian singer, Jenny Jenssen will be performing on board of Stena Saga. She took part in the 2007 Norwegian final with the song Vil du have svar.