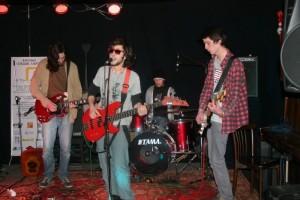 The Georgian broadcaster, GPB, has barely managed to get thirteen artists to represent the country in the 2012 Eurovision Song Contest. Now there will be a group of experts to decide how many songs will compete in the national final to be held in February.
The submission period has ended and the number of candidates has declined dramatically from last year when GPB received fifty applications.
The names of the applicants in the competition are:
-Anri Jokhadze
-Boris Bedia
-Davi
-Edward Tatiani
-Levan Jibladze
-Lina Asatashvili
-Salome Simonishvili
-Shmagi Tagiashvili
-The Georgians
-Vanilla Cage
-Mirror Illusion
-REMA
-Industrial City
Among the veterans we find Anri Jokhadze, who was one of the candidates to represent the country in 2009 with the song 'I', The Georgians who performed the song 'Loved, Seen, Dreaming' in 2011 and, surprisingly, Boris Bedia who was selected by the jury in the last year's first round but he decided to leave the competition.
The show will be broadcast live from GPB's studios in February and the winner will be selected by a combination of televoting and an expert jury.
Georgia will take part in the second semi-final to be held on the 24th of May.