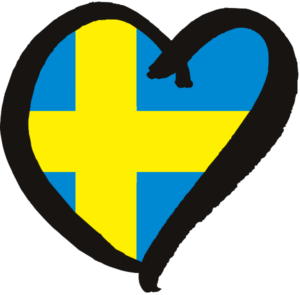 A total of 2 880 000 viewers followed Eric Saade in Sweden on Saturday night. Last year had more than one million viewers fewer following the final (much due to the fact that Sweden was not in the final). Several Eurovision participants are currently at the swedish iTunes chart with Jedward taking the number one position.
The viewing figures in Sweden for the first semifinal on Tuesday proved to be a disappointment with 858 000 viewers – the lowest figure ever for a Eurovision semifinal. 1 575 000 viewers followed the second semifinal on Thursday (with Sweden participating) and a total of 2 880 000 followed the final on Saturday 14th of May.
This means that the Eurovision final was the most watch programme of the week with 846 000 more viewers than the ice hockey final of the World Championships on Sunday (Sweden-Finland).
Jedward from Ireland, who received the swedish 12 points, are currently topping the swedish iTunes chart. The Eurovision winners Ell/Nikki from Azerbaijan are at #5, Swedens Eric Saade at #8, Blue from United Kingdom is #9 and Lena from Germany is at #10.
A look at last years viewing ratings:
2006 Carola – Invincible
Semifinal: 2 645 000
Final: 3 286 000
2007 The Ark – The Worrying Kind
Semifinal: 990 000
Final: 3 425 000
2008 Charlotte Perrelli – Hero
Semifinal 1: 1 020 000
Semifinal 2: 1 970 000
Final: 2 810 000
2009 Malena Ernman – La Voix
Semifinal 1: 2 171 000
Semifinal 2: 1 168 000
Final: 3 120 000
2010 Anna Bergendahl – This is my life
Semifinal 1: 1 060 000
Semifinal 2: 1 850 000
Final: 1 694 000
2011 Eric Saade – Popular
Semifinal 1: 858 000
Semifinal 2: 1 575 000
Final: 2 880 000