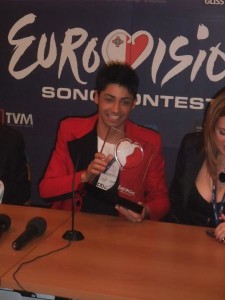 Glen Vella will represent Malta at the 2011 Eurovision Song Contest with the song One Life.  The final of 16 songs took place at the Mediterranean Conference Centre in Valletta.
 The running order for the final – 
Eleanor Cassar  Hypnotised – another polished performance to this lovely ballad
Amber Catch 22 – Amber owned the stage again. Great show.
Jessica Muscat  Down Down Down – great show from 'bubbly' Jessica.
Ally Numb – Ally 'rocked' again with her all female band.
Baklava Moon Dance – explosive performance again from Baklava.
Fabrizio Faniello No Surrender – Fabrizio gave everything. A crowd pleaser.
Kurt Calleja Over And Over – nice rock ballad.
Glen Vella One Life – The crowd loved this. Strong contender.
Marilena ft Michael He's A Demon – polished performance.
J.Anvil Topsy-Turvy – a real show in 3 minutes. Crowd loved it.
Claudia Faniello Movie In My Mind – Claudia rocked the audience. 
Richard Edwards Finally – a lovely performance.  
Raquela If I Could Do It All Again  – Powerful show from Raquela.
Kelly Schembri Love Me Like Your Money – disco delight from Kelly
Wayne Micallef Everybody Sing – Wayne was perfect on stage.
Klinsmann & Ben This Love – nice  gentle song to end.
All the acts performed in the same manner as the semi final yesterday.  The biggest audience reactions were for Glen Vella, J Anvil, Fabrizio, Claudia, Baklava and Raquela.
Former San Remo winner, Ricardo Cocciante, was part of the interval act. Blue, the 2011 United Kingdom Eurovision act performed one of their big hits, If You Come Back. The other interval act this evening were 2 members of the popular Maltese band, Winter Moods.
The voting was a combination of televoting (33%) and expert jury (67%).
So, the Glen Vella will proudly represent Malta in Germany.