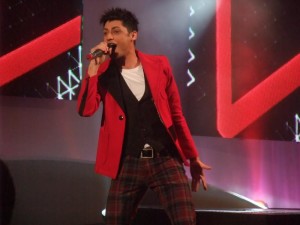 Glen Vella, who will represent Malta at the 2011 Eurovision Song Contest, is currently on a promotional tour to promote his song, One Life.  He is also recording the promo video for the song which will be ready for the Head of Delegations meeting later this month.
Glen was earlier this week in Zagreb, Croatia.  He was on the popular early show, Good Morning Croatia on HRT 1.  Later in the afternoon he appeared on the Bingo Show.  He was also making many other radio and tv appearances on his short stay in Croatia.
On Wednesday evening he was a guest at the Greek national selection where he also performed One Life.
On Friday Glen heads for Portugal in a number of tv shows including the Festival da Canção on Saturday evening.
Glen will also add further countries to his tour over the coming days.
He is also very busy finalising his promo video.  There has been 900 people auditioning for a role in the video.  The video will be ready later this month.
Glen has re-recorded One Life in Andrew Zammit's Tone Studios in Malta, where the original recording took place, and song will be remastered abroad.
Malta will compete in the first semi final in Düsseldorf.