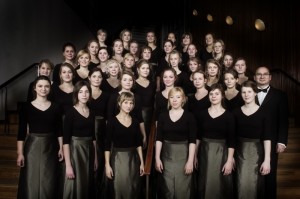 A week before the Danish final a gigantic choir will entertain all around the Northern city Aalborg to make sure the city is ready for the Danish final just a week later. Three Danish entries have been chosen for the event that will function as a warm up for the Dansk Melodi Grand Prix and at the same time as a part of the show.
The past few years Danish broadcaster, DR, has been operating with the term "Grand Prix City", which means that the host city of the national final will do a lot more than just hosting it. All through the week leading up to the Dansk Melodi Grand Prix, as the Danish selecion is called, various events will take place in the city to celebrate the event. The first of these will in 2012 be when a Grand Prix Choir, will perform first in busses and trains in smaller groups and later get together as a part of a gigantic choir, which is expected to be the largest seen in the world of Eurovision with at least 1000 members and maybe even significantly more as all established choirs in the North Jutland region has been invited to take part.
All choirs will meet at a concert with a yet not known grand prix star and after that they will once again in small groups go around in the city singing Danish Eurovision Song Contest entries. Denmark's two winning songs; Dansevise from 1963 by Grethe & Jørgen Ingmann and the Danish version of the Olsen Brothers' 2000 winner Smuk Som Et Stjerneskud and A Friend In London's fifth place from Düsseldorf this year New Tomorrow, has been picked as the three songs they will sing on and on again in Aalborg on the 14th of January 2012, one week before the Dansk Melodi Grand Prix and two weeks before the Danish junior show. 
Director for the choir will be Michael Bojesen who is known for his work with DR's girls choir. DR will also follow the choirs around the city and the footage will be used as a part of the Danish final. Deadline for the choir interested to take part is the 8th of December.