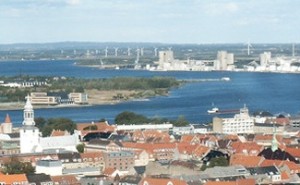 DR announced today that Aalborg, Denmark's fourth largest city, will be hosting the 2012 Danish final. It comes as no surprise as this city appear to be among the broadcaster's prefered locations. The date is expected to be announced on Monday.
Aalborg has hosted the Danish final, the Dansk Melodi Grand Prix, a total of four times. First time in 1992, then again in 2006, then 2010 and now they can add 2012 to the list as well.
It has previously been said that Aalborg was asked as well in 2007 and 2009, but that they declined. The city is already hosting DR's big annual Christmas Show each year. This year DR had chosen to bring back the national final to the capital Copenhagen, which hadn't been hosting it for 10 years at that time.
The fourth largest city in Denmark, Aalborg, is located in North Jutland at the river Limfjorden. It is three hours drive from the German border and only one hour from ferrys to both Norway and Sweden.
More information about the 2012 Dansk Melodi Grand Prix will be announced on Monday. This will probably include the date as well as information about how to apply to participate. One of the two hosts was also announced today and again no surprise: Felix Smith will be the male host just as he was for the past three Danish finals. He is hosting most entertainment shows on DR such as the Christmas Show and Talent.