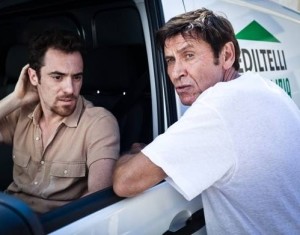 Gianni Morandi, who represented Italy at the 1970 Eurovision Song Contest with Occhi Di Ragazza and hosted San Remo Festival in the last two years, stars in a new movie playing the role of a former popular singer. It will be screened in Italy from the 4th of October.
I Padroni Di Casa (The Hosts) has been directed by Edoardo Gabbriellini and it counts with an excellent cast which, besides Gianni Morandi, includes Valerio Mastandrea, Elio Germano, Valeria Bruni Tedeschi with music composed by Cesare Cremonini. It narrates very interesting parallel stories with intertwining of the characters about how the man is not able to accept intruders in his space or his habits where the director does not leave anything to chance.
The film starts as a comedy but then turns to the tragedy. It is about two brothers, Cosimo and Elia, two extravagant businessmen from Rome, who arrive to a remote village in Tuscany to achieve the restructuring of a villa owned by former popular singer Fausto Mieli, played by Morandi. Mieli, who retired from show business long ago to take care of her disabled wife, Tina, who is confined to a wheelchair. He has been living in the secluded village for about a decade and is either loved or hated by his neighbors. While a comeback concert is being planned by the singer, the presence of Cosimo and Elia generates hostility in the village except for Adriana, a beautiful woman who feels attracted by Elia and wishes to run away with him. The conflict that develops after the arrival of the two men produces terrible and unexpected consequences in the lives of everybody in the village.
Having enjoyed four decades of unmatched success with more than 30 million albums sold, Morandi is among Italy's greatest performers of all time. After representing Italy at the 1970 Eurovision Song Contest his career went into a decline in the late 70's but underwent a revival in the 80's when he won the San Remo Festival in 1987 with Si Può Dare Di Più (One Can Give More) together with Umberto Tozzi and Enrico Ruggeri (1987 and 1993 Italian representatives at the Eurovision Song Contest respectively). With Barbara Cola he became second in 1995 with In Amore (In Love) and he was third in 2000 with Innamorato (Being In Love).
Besides singing, he has written a number of autobiographical books and appeared in several Italian television series and films. He made his film debut in 1967 in the comedy Totò Ciak and his later feature movies included Il Provincial (The Provincial), La Cosa Buffa (The Funny Thing), the comedy F.F.S.S. cioè che mi hai portato a fare sopra a Posillipo se non mi vuoi più bene? (The National railways, Or Why Did You Bring Me All the Way to Posillipo if You Don't Love Me Anymore?) and Panni Sporchi (Dirty Linen).
Watch the trailer of Gianni Morandi's latest movie, I Padroni Di Casa, below: