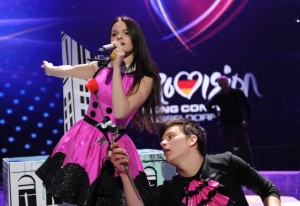 Next on stage was Estonia. The Baltic country was very successful between 1996 and 2002, but since the introduction of the semi-finals it could only reach the final once in 2009. Now the Estonians have high hopes in Getter Jaani.
In total we have six people on stage. Getter Jaani is accompanied by three male dancers and two female backing vocalists who are integrated to dance as well during the bridge of the song. Getter wears a pink and black coloured dress. Her backing singers wear each a yellow and blue dress as well as wigs, while the dancers are dressed in black.
The backdrop shows Manhattan's skyline by night with pink, yellow and turquiose lights. On the stage there are small reproductions of the Manhattan skyscrapers. Getter starts singing while standing on the top of them, waving a yellow cloth and walking down using her dancers' backs as stairs. She dances along with her backings and during the bridge they move towards the audience. At the end Getter receives roses from her dancers.
At the beginning of the rehearsal there seemed to be some sound problems because the microphones sounded a little bit overdriven. Getter sang well, but at the end her voice seemed to become a little bit weaker. Overall the song and the performance are so cheerful and happy that if the small things are improved Estonia is a strong contender for a place in the final.