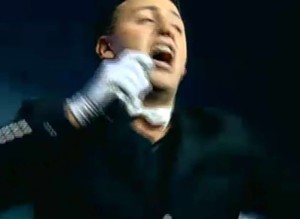 Minutes ago Georgia decided that it will be up to Anri Jokhadze to represent the country at the Eurovision Song Contest in May in neighbour country, Azerbaijan. A total of 9 acts competed in the national final in the country that has never failed to reach the final and always ended up in the best half.
Georgia had its Eurovision Song Contest debut in 2007 where Sopho came 12th with the song Visionary Dream. Coincidently, friendly voting or just a bunch of great song that result happens to be the worst they have ever done. Last year Eldrine ended 9th singing One More Day in Düsseldorf.
Today it was time to find out who would have the honour of representing the country at the 2012 Eurovision Song Contest to be held in Baku, Azerbaijan in May. The 9 songs competed in today's national final had been picked among only 13 submitted entries.
The songs:
Song nr. 1: Mirror Illusion – Whisper
We start out, anything less than quietly, with a pure rock song. It is not one easy to sing a long to, but if you like a good guitar rif, this song offers it.
The girl band consist of three girls; a drummer, a guitar player and a leadsinger also playing the guitar. Plenty of lights are used on stage giving a rock effect, which also quite matches with the red hair colour of the leadsinger who is also dressed in a short red skirt and a black top. Firebombs are used near the end of the song.   
Song nr. 2: November – Letter To A Friend
Though we continue with another rock song it is still different enough from the first one, which was more pure where this one takes heavy use of electro music.
They are five on stage; a drummer, two guitar players, a bass player and a leadsinger. All of them casually dressed, the leadsinger in old jeans and a bit to lose blue sweatshirt. Pyrotechnics are used a bit over half way through the song.  
Song nr. 3: Industrial City – Broken
As song three is yet another rock song you really start to wonder about the broadness of the songs in this national final. This song is more in the style of heavy rock, but it is definetly easier to remember, which is quite an important quality for a Eurovision Song Contest entry.
We now have five men on stage again; a drummer, a keyboard player, two guitar players and a leadsinger wearing a t-shirt with a rock text on it. Firebombs are used from around half through the song and repeated several times until the end.  
Song nr. 4: Leo Jee – It's My Life
After three rock songs it was time for something else and that came from Leo Jee with this pop ballad. It is well sung and near the end Leo really shows that he master the higher notes as well.
It looked like Leo was alone on stage at the beginning, but then two female backing singers dressed as white angels stood up. They had wings on the back and each their 70's hairband. With one being blonde and the other brunette one was reminded a little bit of the ABBA girls. Leo was dressed all in black though the t-shirt had some silver pattern on it, which also was the case with his cap.   
Song nr. 5: Edward Tatiani – Hey You
We continue with a song in the style of dance music. In the second half the song changes a bit as it then includes a big rap part before it then comes back and end in the dance style.
On stage is four people; a male leadsinger, a male rapper and two backingsingers of each their sex. The backing singers are made an almost equal part of the act making them appear almost as a band in the performance. The background staging includes bright colours in all aspects of the rainbow. 
Song nr. 6: Boris Bedia – It's Life
Ever wondered how it would sound if you put an opera singer to sing a rock ballad? The answer would probably be something in this direction. All through the song you keep wondering what is that singer doing singing that song and it becomes slightly odd, but it does stand out as a really strong contender.
He was dressed wearing black trousers, a black open jacket over a white shirt. To add a bit of rock image to the classic look he is also wearing a metal belt. All through the song he is alone on stage with the background mainly be yellow and red.   
Song nr. 7: Vanilla Cage – Breaking The Cage
Does it come as a surprise that we now continue with yet another rock song? If all these rock songs really are to be seperated then this must be the girli version of heavy rock.
On stage we have 5 girls; a drummer, 1 guitar player, 2 bass players and a leadsinger. They are all dressed in leather jackets and all have long hair. Firebombs are used about half way through the song and repeated continiusly and later pyrotechnics are added as well.    
Song nr. 8: REMA – Feel Me
Next up was, surprise surprise, another rock song. This one started out more quietly, but build up to be a really great song that stood out. Definetly one that should be in with a good chance to win this national final.
This time we have four men on stage; a drummer, three guitar players where as one of them is the leadsinger. He is dressed in black just as the drummer, while the other two are dressed in black trouser and white shirts creating an interesting contrast. Once again firebombs are used on stage certainly living up to the fire theme for this year's Eurovision Song Contest. 
Song nr. 9: Anri Jokhadze – I'm A Joker 
In a game of cards the joker can often be used for whatever suits you. It is more or less the same with this song. It has clear rock elements, but almost just as much is borrowed from classic music and the local etnic music scene. It is a bit of everything, but it is easy to sing a long to and not one you forget right away. It might however be just a bit too special to make it to Baku.
The last song competing to represent Georgia this year was Anri. On stage he was dressed in a black suit with white gloves. Compared to most of the other songs the firebombs kicks in basically from the stage and is repeated all through the song and about half way through pyrotechics are added.   
The show:
The Georgian national final was held at the Pavillion Concert Hall in Tbilsi and started at 18:30 local time (15:30 CET). It started out showing clips from the previous Eurovision Song Contest shows, from 2007 and up to date. Of course first with focus on the national participant and then the winner of the international contest. They decided to include 2009 where the Georgian entry was pulled out of the contest as EBU found the lyrics to be too political. 
After the performance from all the 9 participating songs it was time for a re-cap encouraging the Georgian population to vote and then a local female singer Pikria Mamporia entered the stage singing a ballad. She was followed by Candy singing their 2011 Junior Eurovision Song Contest winning song Candy Music.
After another re-cap it was time for Eldrine, the Georgian representative from last year, to perform first another song of hers and after that her Eurovision entry One More Day. Today the performance was mixed in with the video clip of the performance at the Eurovision Song Contest, where she finished 9th.
Sabina Babayeva, who will be representing Azerbaijan at this year's Eurovision Song Contest on homefield, had travelled to neighbour country Georgia to sing A Natural Woman by Aretha Franklin.
Yet another re-cap was shown before the moment had come where the winner would be known, but first we had to see the introduction once again which took us back to the 2007 Eurovision Song Contest and guided us up till today. At this point you started wondering though if the entire show so far would also be repeated or if they had simply added the winner from today to be the Georgian 2012 entry? But no, it was now time to announce the winner.     
The result:
The winner was decided based on a 50/50 decision between televoting and jury. The winner was announced on stage with no other results announced: Anri Jokhadze. He will be singing I'm A Joker at the 2012 Eurovision Song Contest, which you can hear below.