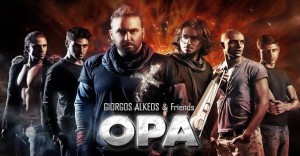 Tonight seven artists competed in order to represent Greece at the 2010 Eurovision Song Contest. In a mix of jury and televoting George Alkaios & Friends was brought to victory with the song OPA. Tonight's show featured guest performances from Cyprus and Bulgaria.
The participants:
Christos Hatzinasios – Illusion
We start with a male solo singer dressed in black with with jeans and of course an half open shirt. Let's not forget that we are in Greece! He has female dancers with him on stage who spend half of the time on the floor pretending to swim. It is a slow song which doesn't come across as particular strong for the international contest. 
Sunny Baltzis & Second Skin – Game Of Life
Now we switch to a female singer who is dressed very dramatic in black. She has a band with her who comes out when the chorus starts. At the beginning it was really slow, but the chorus turned out to have quite some rock elements to it. It is a mix of genres, but again it appears like this might not be what would serve Greece best in Oslo. Near the end she keeps singing Hahaha.
Manos Pyrovolakis – Kivotos Tou Noe (Noah's Arc)
Third song is the first one tonight sung in Greek. We have a male singer with a banjo, a male rap singer and a female singer dressed in a short white dress. Both male singers were dressed in black. It has quite an ethnic sound to it and this would probably do well in the Balkan countries – and again it is quite a mix of genres.  
George Alkaios & Friends – OPA
Here we have four male dancers that reveals a male lead singer. All of them are dressed in black which seems to be the colour in Greece at the moment. The dancers and the line with OPA being shouted makes you think a bit of Ruslana's Wild Dances. A violin players joins the stage near the end of the song. Haven't we seen that in almost all the national finals this year? 
George Karadimos – Polemao (Fight)
The fifth song is a ballad performed by a male singer. He is dressed in dark grey trousers and a matching vest with a white shirt underneath. With so many of the other songs being quite a mix of genres this is more straight forward and he can actually sing quite well. With this year being quite a ballad year why not add this one to the list? 
Melisses – Kinesos (Chinese)
A band now joined the stage. All bandmembers are dressed in black suits with white shirts. It is an up-tempo song which is on the line where it balance between being serious and a joke song. Some might think though that this would have been more suitable for the Junior Contest. The tune is quite familiar, but I can't cope up with where I have heard it before. 
Émigré – Touch Me Deep Inside
Last song from the Greek selection this year is almost the one sounding most like a Eurovision song – if there is such a thing. We have a female singer dressed in a short white dress which Lena Philipsson and Dana International will probably be fighting over. It is an uptempo song with hints of europop as we have seen many of in the contest – just not this year! 

The show:
Rika Vagiannis and Tzeni Balatsinou hosted the Greek this evening. Last year Sakis Rouvas came 7th with This Is Our Night. The video from his Eurovision Song Contest performance was shown in the beginning of tonight's shows. Jon Lilygreen & The Islanders came to Greece to perform his entry representing Cyprus with the song Life Looks Better In Spring. Anyone else thinking that him and Tom Dice from Belgium are going to have a lot of fun jamming a bit with their guitars in Oslo? The story about the 2009 Eurovision Song Contest is being told showing clips from Patricia Kaas, Jade and Alexander Rybak. 
A dance routine includes seven big numbers and few seconds of singing – representing the seven songs participating tonight. Mind you, we were an hour into the show before the first song was performed. 
After all the songs had been performed and showed in reprise guest singer Katerine Avgoustakis comes to stage together with her piono performing a balld – yes, 2010 is a ballad year if someone shouldn't have noticed it. Afterwards she sings an uptempo song showing that she can do more – and quite strikingly that she appears stronger on stage than any of tonight's participants. 
Just as the voting lines were about to close Bulgaria's representative for the Eurovision Song Contest in May Miro comes on stage. He is of course singing his entry called Angel Si Ti.
Greece at the Eurovision Song Contest:
Tonight's winner will have a lot of pressure on the shoulders as Greece is in a very good streak having finished in top 10 at the Eurovision Song Contest final for the past six years. They joined the Contest in 1974 where Marinella sang Krasi, Thalasa Ke t' agori Mu to 11th place. Their first and so far only victory came in 2005 where Helena Paparizou reached top position with My Number One.
For the 2010 Eurovision Song Contest Greece will be taking part in the first semi-final and if all goes well in the final they have never failed to reach.