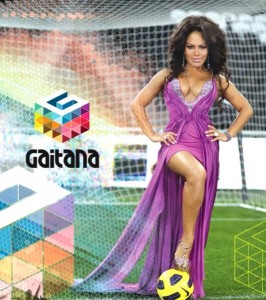 This new album is a sole selection of sport-oriented tracks and it is dedicated to the London Olympics and Euro 2012 football championships including her Eurovision Song Contest entry Be My Guest and other known Gaitana's hits in support of charity. It is now available only in digital form.
Everyone knows that sport is an essential part of Gaitana's life and, in fact, before she came into the music business she wanted to be an athlete. Recently, Gaitana has been officially named as Friend of Euro 2012 because of her hymn devoted to the football championship called in the same way that this new album, Viva Europe!
It could not miss on this album the song that Gaitana sang to the Ukranian Cup winners FC Shakhtar. Last year she became a fan of the Shakhtar soccer club from Donetsk, Ukraine and she was participated in big concerts dedicated to the club's victories. Recently she congratulated the team on its 75th anniversary and presented an energetic song under the title of Shakhtar – Chempion as her gift to her favorite club with a video starring her with football players together with their well-known coach Mircea Lucescu. Its English version is also available as Shakhtar The Champion!
In addition to her passion for sports she is a socially active personality and she supports a lot of charity projects as actively as possible. This is why, many of the songs included on this album are well known for having been part of major charity projects in recent times.
The song Ukraino! Budmo! is such the hymn of the social project for kids called Davaj Razon (Let's do it together) arranged by her together with UNICEF and launched by the State Service for Youth and Sport in cooperation with the United Nations office in Ukraine.
Ty – chempion and its English version You Are The Champion was composed by her for the charity organization of Klitschko Brothers whose mission is to create favorable conditions for the harmonious development of Ukraine's growing generation of youth.
Neshchodavno (Recently) is also on the album. It was recorded together with Stas Konkin as part of the international project Global One. The chairman and producer Rob Hoffman chose her to represent Ukraine in his multinational project which brings together artists from 35 different countries to record a song as a force for peace and unity in troubled times.
The album includes some unreleased tracks like the summer song Samoliot (Airplane) or a pleasant ballad called Zacharui Nas Lyubov written by Nikolai Mozgovoy.
It is already available at all music Internet stores and the track list is as follows:
1. Be My Guest
2. Ukraino! Budmo!
3. Shakhtar – chempion
4. Ty – chempion
5. Samoliot
6. Neshchodavno feat. Stas Konkin
7. Mayak
8. Zacharui Nas Lyubov
9. Viva, Europe!
10. You Are The Champion!
11. Shakhtar The Champion!
Below you can see our 3D video of Gaitana's performance at the Eurovision Song Contest. As always, we recommend watching it in 3D but if you do not have a pair of suitable glasses this can easily be turned off in the player below for regular 2D video.