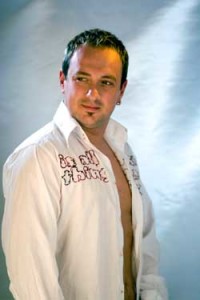 Gjoko took his first rehearsal today with his song Jas ja imam silata presenting FYR Macedonia. He brought the great atmosphere and good acoustic sound on stage
Gjoko's song is the one which have the two styles in it, pop-rock and rap. On the stage were three dancers behind him and one box where they were standing and dancing at the moments. On of them was dancing around Gjoko. In the rap part Billy Zver entered the stage and after him the guitarist Pejchin joined them on the stage.
The lights at the beginning are black, red, green, purple, and from the secound part of it are flashing from black to white. The dancers are dressed in black waving with white scarfs.