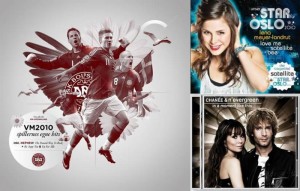 The ongoing World Cup in South Africa has made its way to the charts in Denmark in such a way that the entries from the 2010 Eurovision Song Contest is fighting to stay on the list. German winner Lena is still hanging on, but has dropped from first to eight!
Right after the Eurovision Song Contest in Oslo had ended several of this year's entries made it to the Danish charts. Now that the World Cup has started they are slowly dropping out as various football songs are being released and sold as singles.
On the Danish single top40 Lena was last week's number one. This week she has dropped to an eight position. New on the top is The Danish Way To Rock, which is the official 2010 Danish football song where the national players sings along. A couple of more football songs are placed on the list; but all other Eurovision entries have totally dropped out of top40.
Olsen Brothers, who won the Eurovision Song Contest in 2000, is new on the album top40 with their Wings Of Eurovision where they have covered various entries from the Contest that has been going on for more than 50 years. They went straight into a 7th position on the list which is led by Kim Larsen, who participated in the national selection in 1978. The official album with all 39 participating songs from Oslo is still selling well in Denmark, with a total of five weeks on the list, although it has dropped as it is now #13 after being last week's 7th position.
Chanée & N'evergreen's album is on the list for the third week in a row, but the Danish representatives who came fourth in Oslo must also realise that it is going the wrong way. They dropped from #12 to #25 in just one week. An even bigger drop is facing three times Eurovision Song Contest winner, Irish Johnny Logan. His new album Nature Of Love has dropped from #13 to #30 with a total of four weeks on the list.
On the bit track top20 (The list of singles sold as downloads) Lena and Chanée & N'evergreen are still hanging on, but again it is the official Danish World Cup song which is number one. That position was also Lena's in last week, but her song Satellite has dropped to this week's #9. New as number 15 is Sukkerchok with their football song Sukkerbold. They have participated in the Danish final, the Dansk Melodi Grand Prix, in 2009 and 2010. Chanée & N'evergreen's In A Moment Like This has dropped from #11 to #17 this week.
When it comes to the list of downloaded albums, the bit album top20, only Eurovision Song Connection is the Olsen Brothers who is new as number 11. On the ringtone top10 Lena and her Eurovision winner Satellite is this week's #3 with a total of two weeks on the list.
Chanée & N'evergreen's entry has been a popular ringtone basically since they won the Danish final. They are number 5 now with a total of impressive 9 weeks in total on the ringtone chart.
On the Music DVD top10 a double DVD with songs from the Danish finals from 1978 to 2010 has dropped to a second position after being the most sold music DVD last week. With five weeks on the list it has been there ever since it was released.