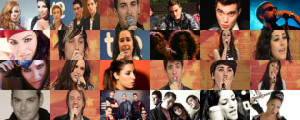 Today, the names have been announced of the 24 candidates who will battle out in the Spanish national selection. Furthermore, RTVE has confirmed that the first gala will be held in Barcelona and it will be presented by Anne Igartiburu once more.
After a long and laborious selection process by RTVE team members, we now have the chosen ones names. The singers who have failed to qualify for the semi finals are Alba Lucía, Dani Alemán, Divas, Fernando H., Lussi Bom and Sonia and Selena, but there are 24 candidates who will demonstrate what they can do in the four televised shows scheduled by TVE.
These are the 24 selected performers:
1.    Alazán
2.    Auryn
3.    Baltanás
4.    Da Igual
5.    David Sancho
6.    Don Johnsons
7.    Esmeralda Grao
8.    Gio
9.    Guadiana
10.  Las Miranda
11.  Lorena Rosales
12.  Lucía Pérez
13.  María López
14.  Melissa
15.  Mónica Guech
16.  Pau Quero
17.  Paula Marengo
18.  Roima Durán
19.  Sebas
20.  Sergi Albert
21.  Sometimes
22.  Sunami
23.  Valeria Antonella
24.  We
It remains to be seen if RTVE will use the right to invite established artists to take part in the selection as wildcards, making the number of competing candidates to a total of 30.
Now that we know the names of the 24 artists who aspire to represent Spain in the Eurovision Song Contest, we just need to know the songs that they will have to impress with in the televised galas. More than 1,100 songs aspire to be on the stage of the Düsseldorf Arena next May, so the experts committee is still analysing all the candidatures to choose the best tracks. Over the next few days, RTVE will announce who the candidates are.