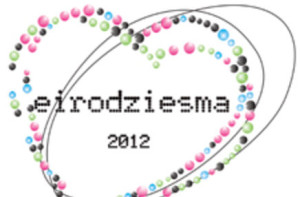 The national selection in Latvia, named Eirodziesma, will kick off in a bit over 24 hours. Ten acts will participate in the first semi-final – and only half will make it to the final. Andris Ābelīte, member of Bonaparti.lv, who represented the Baltic country in 2007, return as a solo singer this time. 
The songs can be heard by follow the links from the songtitles below. 
Atis Ievins –  Dancer (Music & lyrics: Arturs Mangulis): Twenty-four year old Atis studied multiple instruments and singing at Ogre Music School where he also performed with his schoolmates in the group Ogre Blues Brothers in 2008. Until now he has performed in many musicals. In addition to his talent, Atis also graduated from economic and cultural instutition this year. Now he is a guitar teacher in the National Gymnasium.
His song named Dancer is a mid-tempo almost a ballad song where he announces his feelings to a beautiful dancer. We will see whether his feelings will step it up to the final or not.
Nikolajs Puzikovs – Mīlestības Nevar Būt Par Daudz (Music: Arturs Palkevics/ Lyrics: Guntars Racs): Young talent Nikolajs was born in Russia but has Latvian citizenship. He studied piano and now he is a rising star in the Latvian music industry with hits like Dievs Tevi mil and Viens un tas pats. In this selection he is working together with two veterans in Arturs Palkevics and Guntars Racs.
The song Milestibas Nevar But Par Daudz is a typical mid-tempo pop song, which reminds of Tie-break's Du Bist from the Eurovision Song Contest in 2004. The title of the song means "love can't be that much". So will this song be able to be enough?
Maia – No Limits To Dream (Music: Edgars Belickis, Edgars Jass, Raitis Auksmuksts/ Lyrics – Maia): Full name, Maija Aukšmukste, will be the third act in the first semifinal of Eirodziesma. Maija studied social science in the past, but her talents in singing and writing brought a new way of living to the life. She stepped into the music industry as a vocalist of the group Maija's Marvellous.
The song No Limits To Dream is written by herself and composed by the team of Maja's Marvellous. They obviously should be very focussed on showing they have no limits to their dreams on stage.
Samanta Tina & Davids Kalandija – I Want You Back (Music: Martins Grunte/Lyrics: Oskars Maizitis): Samantha participated in LNT – musical reality show 'Oh Card Academy' and won. She successfully participated in various Latvian and international music competitions and has appeared on TV in several occations.. Samantha's partner for the song is Davids Kalandija, who succeeded to win many awards, including best country hit in Batumi Golden Music Awards making his succes internatinal.
Young faces in Latvian music arena, Samanta and Davids came together to perform this pure ballad I want you back, which is written by well known songwriters Martin Grunte and Oskars Maizitis. The duo is also tipped as a hot favourite of this first semi-final.

Angelina & Alisa May – Rollin' Up (Music: Jevgenijs Ustinskovs/Lyrics: Alisa May): Angelina, whose full name is Angela Gasjaneca, graduated from Daugavpils Music School, after succesfully having had piano lessons and now she is studying music pedagojy in Riga Teacher Training and Education Management Academy. Angelina participated in various talent contest such as Choir Wars 2 and Silver Bells (placing 2nd)… Alisa May, whose full name is Alisa Ciburevkina is currently studying music pedagogy at Daugavpils University of Music and Art Department. Akisa won the competitions World of Talent in 2009 and Dinaburg Stars in 2010.
The fifth act Rollin' up will be presented in an uptempo RnB style by the duo. In the lyrics Angelina and Alisa ask each other whether they are rollin' up or down. So will this be a good omen for them?
Laura Bicane & Romans Sladzis – Freakin' Out (Music & lyrics: Laura Bicane): Laura, who is just 21 years old, is currently a student at Daugavpils Music School studying music theories. She has attended many events such as Muzykys Skrytuls, Upites Uobelduorsz, MADE IN LATGOLA and contests as The Voice of Latvia, German Fehmarn sucht den Inselstar receiving winning prizes. She has also given concerts in France and Germany… Three years older Roman Sladzis, is a professionel guitar player. Songs he played or composed have accieved respectable ranks in the charts.  
Though the song Freakin' Out is a mid-tempo song that is written and composed by Laura and played by Romans in the studio. This charming and cheerful might be popular among televoters and jury members.
Paula Dukurs – Celebration (Music: Edijs Dukurs/ Lyrics: Miks Dukurs): Paula showed the sides of her talent at the age of 11 when her first winning prizes began to come. The first success was achieved in the contest "Zigmars Liepins, New Stars" which she won. They were soon followed by participation in the Festival "Liepaja Amber". Now she works professional with her parents Edijs Dukurs and Miks Dukurs, who has written and composed Paula's act in Eirodziesma 2012.
The lyrics and music of the song Celebration came out at the time Paula approached her 18th birthday. We should not worry about it a moment, just celebrate a birthday, enjoying the company of friends, we should live it up timely and positive! As she says in this song: "Celebrate Hurray, Hurray!" 
Andris Abelite – We Can Change the World (Music & lyrics: Andris Abelite): Veteran singer Andris Abelite, who is also known as a trumpeter and composer in this Baltic country, is a member of National Symphony Orchestra.  He represented Latvia at the Eurovision Song Contest in 2007 as a member of the male group Bonaparty.lv and honoured his country in the final. This time, he makes a return to Eirodziesma as a solo singer.
The song We Can Change the World can be classified as a ballad, which sounds like coming out from a musical and it has potential to be a classic in the history. Andris tells us his passion for changing the world, but will it work for the Latvians on Saturday?
Ruta Duduma – My World (Music & lyrics: Ruta Duduma): Ruta made public recognition after joining the competition Singing Family where she performed with her mother in 2010. Previously she appeared in the contests Latvian talent in 2008 and Choir Wars 2 in 2009 where she made new friends and gained experience.
The song My World is the first act in Ruta's career as she never composed a song before. No experience, but it is fun when you can't predict anything 100%, isn't it?  
Group 'PeR' – Disco Superfly (Music: Ralfs Eilands, Edmunds Rasmanis/Lyrics: Ralfs Eilands): The group PeR was founded in 2007 when the two guys Ralph Eilande and Edmund Rasmanis came together to share their passion for Beatbox. Their mission in Eirodziesma is: Latvia has to get to know Beatbox – vocal percussion form that mimics the rhythm of drums, musical sounds using their mouth, lips, tongue and voice, according to the group. The group has been invited to many shows, but mostly by Russian RTR.
As the reason of the foundation of PeR, the last act in Latvian first semi-final Disco Superfly is an beatbox song. This catchy song is tipped for a place in the final.
Only five of participating names will go through to the final stage of Eirodziesma.  The results will be shaped after the overal scores by televoting and the jury with ten members.