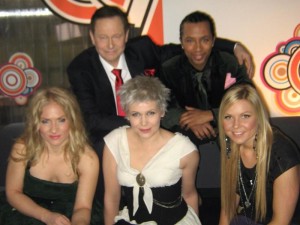 What kind of candidates has Finland for the Eurovision Song Contest 2009? Who is new artist and who would sing in Russian in Moscow? You can also find out interesting things from the artists. And yes, there are also the results!
KWAN
Kwan is a well-known band worldwide. Kwan's soloists are Mariko and Tidjan. Mariko has not
followed the Eurovision Song Contest, but she sees the participation as a nice
opportunity. "A spectacular opportunity," follows Tidjan.
Kwan's song 10 000 Light Years is the result primarily of The Rasmus guitarist
Pauli Rantasalmi and Swedish Harry Sommerdahl, who worked with The Rasmus
latest album, and with the co-operation of Jaani Peuhu from Icon Crash. The song is
directed to all Finns.
Mariko says that they have once been on a day-long tour in Moscow, and they
had little time to see the city, because their  accommodation was at the edge of the city.
Mariko has greetings for Eurovision Song Contest fans: "Hopefully, Kwan will
be at Moscow entertaining you." Both soloists want to send greetings
to all Eurovision Song Contest fans' mothers.
RIIKKA
Riikka has already experienced the Eurovision Song Contest world. She was a backing singer with the Finnish acts in 1996 and 2004, and participated in the Finnish selections in
2004 with a song Toarie, which was ranked third. The Eurovision Song Contest is
for her one of the great musical and cultural events, in which all competitors invest a
lot. She has no favourite Eurovision Song Contest songs.
Ville Laaksonen wrote a song for the competition a few years ago for Meren. The song was in the same spirit as Toarie and Riikka's first album Käenkukuntayöt. "When I
heard it for the first time, it was to me extremely beautiful," says
Riikka of her entry. Her song fits alongside the beauty of a strong, brutal feeling
too. Riikka wants to present a song especially for all those women who have
lost loved ones or have been close to such a situation. Riikka is going to
sing her song in Finnish and she would be extremely proud to sing the entire
song for Europe in Finnish. She also misses those times when countries
presented their entries in the own native language. She believes that the
Eurovision Song Contest should be seen more as a cultural gala, where countries
would show more courage and display their identity.
Riikka remembers Evgeny Plushenko, his virtuosity and other ice
skaters.
Riikka wishes to thank the foreign Eurovision Song Contest fans for the encouragement
that she has received over the Internet.
TAPANI
KANSA
Tapani Kansa's schedules were a little late. Therefore, he could not give an interview to our
site.
Tapani Kansa was been involved in Finnish Eurovision Song
Contest preselections from the 1970's to the 1980's. Even some time ago, he had an opinion that he would never participate in Finnish selections, but to the delight of many, he has
changed that opinion.
It is known that Tapani Kansa has written the lyrics for Rakkautta on, rauhaa ei. The music was written by Mika Toivanen, who has composed Finnish Eurovision Song Contest entries
Takes Two to Tango, and Why?. If Tapani Kansa is elected as the representative of
Finland, he will sing in Russian in Moscow. At least he has said so in many
interviews.
TIARA
Tiara is a new artist, and she is publishing her
first album. The Finnish preselection of the Eurovision Song Contest gives her a chance
to get publicity. She mentions a few favourite Eurovision songs: Sata salamaa
(Finland 1987), Eläköön elämä (Finland 1985), Diva (Israel 1998) and La det
swinge (Norway 1985). She has also participated in Eurovision events.
Manala was born in 45 minutes during a bus trip. The feeling of the song is strong and genuine, and Tiara wants to sing it particularly for people who have
encountered disappointments in relationships. She will sing her song
in Finnish, because her music is the Finnish language and Finnish is, in her
opinion, a rich and beautiful language. If Tiara wins the right to be Finland's
representative in the Eurovision, the language may change.
Tiara does not know much about Russian culture, but she would like to see and to
experience it. Otherwise, she has no opinions on Russia.
Tiara sends greetings to the Eurovision Song fans: "Listen to the songs of
Eurovision Song Contest with open ears and hearts!".
THE RESULTS:
Tapani Kansa went through to the final with 37,4 % of all votes. The runner-up of this selection was Kwan with 31,9 % of the votes. Riikka and Tiara will have to compete in the second chance round.