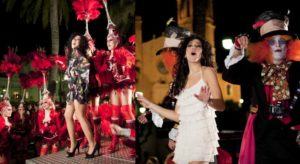 Lucía Pérez, the Spanish representative in the 2011 Eurovision Song Contest, has filmed this weekend in Sitges the video clip for the song Que Me Quiten Lo Bailao. Now it is time for working on the video edition and the music production of the final version of the song that will become very familiar to us.
The video clip was shot this weekend in Sitges, taking advantage of the famous Carnival celebration in this Catalan town. The public broadcaster has reported that they have chosen the Carnival of Sitges as location of the video clip because it is a carefree party and it was ideal for a festive song like this.
During recording, Lucía Pérez was been part of the Carnival and she was singing and dancing with people who were dressed in a fancy costume.
RTVE has announced that the video clip and the final version of Que Me Quiten Lo Bailao will be officially presented this week.