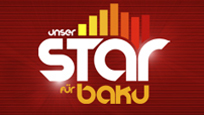 Tonight the German selection for this year's Eurovision Song Contest, Unser Star für Baku (Our star for Baku), kicked off. Ten artists competed for five places in the next show. At the end the public decided who of them would get a ticket.
The show started at 20.15 CET and was broadcasted via the private TV channel ProSieben. In year one after Lena Meyer-Landrut there have been a few changes. Soon after the Eurovision Song Contest in Düsseldorf Stefan Raab retired as the jury's president. He is replaced by Thomas D.. But Raab still seems to be addicted to the Eurovision Song Contest so that he decided to stay in the jury which is completed by the German singer Alina Süggeler who is very successful with her band Frida Gold and was a member of the German jury in Düsseldorf. In contrast to 2010 and 2011 the jury line up will not change during the single shows, but remain in this formation until the final.
After a warm welcome of the hosts Sandra Rieß and Steven Gätjen a short film was shown about Lena's success in Oslo and her performance in Düsseldorf. Before the performances started each artist introduced himself. Afterwards the phone numbers were already revelead to determine the running order. The lines stayed opened during the whole show and for the first time we could see a so called live voting so that the viewers were able to see the full current standings on the
screen.
The songs:
1) Katja Petri – Marry you
Katja is a 24-year-old musician from Berlin. She performed Marry you by Bruno Mars. On stage she was just accompanied by her guitar. Her voice is very warm and charming, but she seemed to have some problems to hit the higher notes. Nevertheless it was a very good opener which was also the jury's opinion. After her performance Katja climbed directly to the first position of the live voting.
2) Jan Verweij – Closer to the edge
Next on stage was Jan, a 21 year old guy from Mönchengladbach. He currently works in a restaurant, but plans to study graphic design. He performed his own version of Closer to the edge by 30 Seconds to Mars. Jan gave his best on stage, but he was obviously very nervous and it appeared like this kind of song was simply not made for him. This was also Stefan's opinion. He pointed out that he liked the sound of Jan's voice, but he realized that Jan did not hit all notes. Alina and Thomas agreed with him.
3) Leonie Burgmer – Stronger than me
Tonight's number three on stage was Leonie Burgmer, a 20-year-old student from Essen who did a cover version of Amy Winehouse's Stronger than me. Already the first notes of the song reminded a bit of Lena's singing style. And it was not only the vocal performance which reminded of Lena. Also her dance routine was very similar to Lena. All in all it was a good performance. The jury said that she is unique and has that special something. Leonie should be a possible candidate for the next show.
4) Yasmin Gueroui – Not fair
Yasmin is a 22-year-old student. Last year she worked at the Eurovision Song Contest in Düsseldorf and decided that she wanted to go to the contest again. She gave a very catchy performance of Lily Allen's Not fair. Her way of performaning reminded again a bit of Lena. Yasmin appeared very cute on stage and flirted a lot with the camera. This was the first uptempo song of the night and the audience already applauded during the song. Thomas and Stefan both did not like the song, but they said that Yasmin's performance was very good. Alina encouraged the people to vote for Yasmin because she wanted to see her again in the next show.
5) Kai Nötting – More
Next we saw Kai Nötting singing More by Usher. Kai is 21 years old and studies to become a teacher. He gave a very special performance of this uptempo RnB-song. His version started out as a slow ballad and built into an uptempo song. His voices seemed more suitable to the slower part of the song. During the uptempo part Kai appeared to be a little bit out of breath at some parts. The audience liked it a lot as well as the jury. Alina stated that she liked the voice more during the first part, while Thomas was totally enthusiastic about this performance.
6) Shelly Phillips – Valerie
Number 6 of the running order was Shelly Phillips, a 20-year-old pupil who sang Amy Winehouse's Valerie in a special version. The arrangement of the song which is actually an uptempo song was changed into a slower, but very funky RnB-song with some hip hop elements. Shelly's voice was strong and suited well to this kind of arrangement. Stefan called her style art and wanted to listen to it right again. Thomas thanked her to have applied for the show and Alina liked it especially that Shelly did not try to appear sexy, but was just herself.
7) Salih Özcan – 
Señorita
Salih is 23 years old and works in a call center. In the introduction film he explained that he would find it cool, if a Turkish guy represented Germany in Baku. Salih sang Señorita by Justin Timberlake. So far he was one of the weakest singers of the nights, but he tried to compensate it with an entertaining performance on stage. Would this be enough to reach the next show? The crowd was not too enthusiastic about Salih's performance. Alina criticized that Salih focused too much on the presentation so that the vocals became weak. Stefan said that there were moments when Salih's voice was excellent, but one second later he failed to hit the note in a very bad way. And Thomas just commented that this was nothing. 
8) Céline Huber – Beautiful disaster
Next on stage was Céline Huber, a 21-year-old girl who studies vocals at a music college. One could hear this from the first note of Beautiful disaster by Kelly Clarkson. Céline gave a very good and emotional vocal performance which seemed to be the strongest so far. This was also shown by the audience's reaction who even gave a scene applause during the song. Thomas said that he was bewitched by the performance. Stefan thought that the vocals were perfect and that he knew why her parents called her Céline.
9) Jil Rock – Moves like Jagger
Jil is a 20-year-old student of psychology. She rocked the stage with Moves like Jagger by Maroon 5. Her vocals were strong, but she seemed to try to sound very much like Christina Aguilera. Nevertheless this was a very good performance and a strong voice without nameable mistakes. In Alina's opinion this was a nice performance, but she missed the emotions. Stefan admired Jil's control over her voice, although he and also Thomas thought that the performance might have had a lack of Jil's own personality.
10) Roman Lob – After tonight 
Tonight's last performer was Roman Lob who is 21 years old and currently works as an industry mechanic. Right from the start his performance of Justin Nozuka's After tonight was outstanding. He seemed to have hit every note and had a lot of emotions in his voice. He received tonight's biggest applause and even a standing ovation by the jury and the crowd. Stefan was just enthusiastic about the performance. Thomas said that he almost started to cry and also Alina praised this song presentation.
In the meantime there was a huge focus on the live voting which was very exciting. From time to time the first six places had a percentage of each 14%.
At the end we had a very close result with a difference of just 0,2% between the 5th and the 6th placed singer.
We will see the following artists again:
Roman Lob
Katja Petri
Céline Huber
Leonie Burgmer
Shelly Phillips
The next show of Unser Star für Baku will be held next Thursday, January 19th at 20.15 CET. In total we will have eight shows. The German final is set to be on February 16th in Cologne.