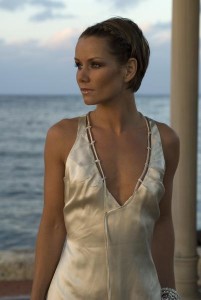 Today Swedish broadcaster SVT revealed the names of the composers and the artists of four of the songs competing in Melodifestivalen 2011. Among the artists and composers you will find well known names as Linda Bengtzing, Tomas G:son and Alexander Bard and also debutants such as Pernilla Andersson. 
These are the four songs:
Song title: Desperados
Composer: Pernilla Andersson
Artist: Pernilla Andersson
Song title: E de fel på mig
Composers: Pontus Assarsson, Thomas G:son, Jörgen Ringqvist
Artist: Linda Bengtzing
Song title: En blick och något händer
Composers: Alexander Bard, Ola Håkansson, Tim Norell
Artist: Lasse Stefanz
Song Title: Me And My Drum
Composers: Teron Beal, Patrik Magnusson, Johan Ramström
Artist: Swingfly
Pernilla Andersson is fairly well known in Sweden and has released seven albums. We have seen her in several TV-shows in Sweden such as Doobidoo and Sommarkrysset.
Linda Bengtzing has participated in Melodifestivalen three times before "Alla flickor" (2005), "Jag ljuger så bra" (2006) and "Hur svårt kan det va" (2008) and this will consequently be her fourth time. The composers of the song "E de fel på mig" are all experienced and has participated several times in Melodifestivalen. For example, Pontus Assarsson wrote Pernilla Wahlgren's song "Jag vill om du vågar" (2010) and Fame's song "Vindarna vänder oss" (2004). Thomas G:son has written over 20 songs that has competed in Melodifestivalen over the years, for example Friends song "Lyssna till ditt hjärta" (2001) and Carola's "Invincible" (2006) just to mention two. Jörgen Ringqvist is one of the composers for Calaisa's song "If I could" (2008) and Pernilla Wahlgren's "Jag vill om du vågar" (2010).
Lasse Stefanz has had a really long and successful career, the group was formed 1967 and have been playing ever since. They have released several albums in Sweden and some of them have sold gold or even platinum. This is their debut in Melodifestivalen. Alexander Bard is experienced when it comes to Melodifestivalen, he wrote Tommy Nilsson's "En dag" (1989) Amy Diamond's "It's my life" (2009) and BWO's song "Temple of love" (2005) just to mention a few. Tim Norell and Ola Håkansson was Alexander Bard's co-composers to "En dag" (1989) and among other things they wrote Lena Philipsson's "Dansa i neon" (1987) together with Peo Thyrén.
Swingfly is a debutant in Melodifestivalen. The Swedes remember him for his collaboration with Teddybears STHLM and the song "Hey boy" in 2004. Teron Beal is an American artist and songwriter who has written songs for Jennifer Lopez, Pink and Kelly Rowland. This is his debut in Melodifestivalen. Partik Magnusson and Johan Ramström have both participated before, they wrote Annika Ljungberg's song "Sail away" (2003) and Pablo Cepeda's song "La chica de la copa" (2006).
Links
Linda Bengtzibg's official website
Pernilla Andersson's official website