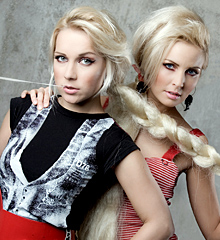 Tonight saw the first of two semi-finals in Estonia. Ten songs were competing for the votes of the juries and the public. The top five songs qualified for the Eesti Laul final on 26th February.
Hosts Piret Järvis and Lenna Kuurmaa (of Vanilla Ninja Fame)made their introductions and, somewhat against the grain for these shows, we were quickly into the songs. Our hosts would speak to all the singers immediately after their pre-recorded performance was shown.
1) Marilyn Jurman – Veel on Aega – Marilyn's delicate voice gives her song a sensitive feel, the mid-tempo pace moves along freely and it is pleasant to listen to. While Veel on Aega sounds a little old fashioned, it was given a contemporary presentation.
2) Elmayonesa – Kes ei Tantsi, on Politsei – dreadlocked (or is it just unkempt) Elmayonesa took to the stage with that rarely heard genre in the Eurovision Song Contest, or even national finals, reggae. Not only that, there are also R 'n' B influences in the song. It would be something different if the Estonians felt in the mood. The presentation was a little on the bizarre side, adding to the appeal if something different is what the viewer was looking for. How the juries would react to it was unpredictable
3) Victoria – Baby Had You – Blond Victoria had one of the strongest songs of the night. It is a sassy mixture of dance pop and rock. Despite a strange mixture of clothes, it looked and sounded like one of the finalists.
4) Noorkuu – Be My Saturday Night – Five piece vocal group, Noorkuu, will be described by some as a boy band, although that would be unfair, as Be My Saturday Night is more mature than the typical song by such groups. It is in the pop/soul mould and sounded much stronger than the version available on ETV's site prior to the show suggested it would. . The lead singer's high voice is memorable.
5) Jana Kask – Don't Want Anything – The first ballad of the night. It starts off quietly, but goes up a notch or two to become a rock ballad. Accompanied on stage only by a guitarist, Jana gave a very strong performance and a place in the final was surely hers.
6) Kait Tamra – Lubadus – Estonian finals used to be full of songs like this. It's slow and uninspiring. If you have a littleo ne who doesn't want to fall asleep, a couple of minutes of Lubadus should do the trick.
7) Ans. Andur – Lapsed ja Lennukid – Ans. Andur gave the audience a soft rock song which had more than a hint of eighties influence. The performance was professional, but, if the poll on ETV's site was anything to go by, was unlikely to feature in the final.
8) Meister ja Mari – Unemati – The song is a gentle, folk influenced number. So, how could it be made a bit more memorable? By featuring backing dancers waving their feet about on a bed, that's how. Weird, but strangely appealing!
9 Getter Jaani – Rockefeller Street – Despite the title, the song owes more to pop and rock than rockefeller. Her colourful dress was well suited to this bouncy, cheerful song.
10) Outloudz – I Wanna Meet Bob Dylan – The name of the band might suggest a hard rock song, but instead, it is a mid-tempo AOR song. It is one of the favourites in the ETV poll, but never really gets out of first gear.
After chatting to various people while votes were being cast, the results were announced. The five lucky acts are:
Victoria – Baby Had You
Noorkuu – Be My Saturday Night
Jana Kask – Don't Want Anything
Getter Jaani – Rockefeller Street
Outloudz – I Wanna Meet Bob Dylan
The second semi-final is next saturday, when five more songs will complete the line up of the final.