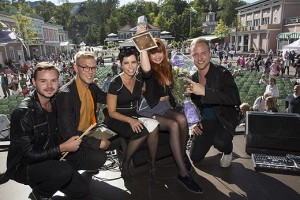 The band EKO has secured a place in next years Melodifestivalen 2014, the swedish national selection to the Eurovision Song Contest, by winning the swedish radio talent competition "Svensktoppen nästa" today.
Eight finalists from different regions of Sweden had been chosen to take part in the swedish talent competition "Svensktoppen nästa" that took place earlier today. Two superfinalists were chosen out of these eight finalists by a 50/50 split vote between a jury and SMS-voting radio listeners: Sophia Sandberg-Albihn and EKO. In the final voting round the power to select the winning song was laid in the hands of the radio listeners and the winner was EKO with the song Yellow. The band has to perform a new song instead of the winning song Yellow in Melodifestivalen.
EKO consists of the singer Anna Lidman, Hannes Lundberg and Michael Ottosson. Anna desribes the bands music as heavy electronic pop with influences of ethno music.
The dates and the cities where Melodifestivalen 2014 is to be held are yet to be announced.