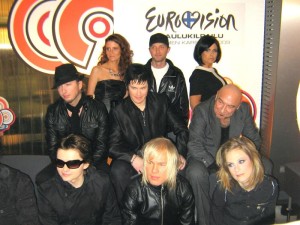 The second heat of Laulukilpailu, the Finnish selection process, took place in Tampere last night. EuroVisionary were there to cover the event and asked a few pertinent questions to the artitsts. Find out who changed their entry only one week before deadline.
SANI
Sani described her thoughts about the world of the Eurovision Song Contest, "Last ten years I have watched the Eurovision Song Contest… it has been a big thing in my childhood. I have participated earlier, and this is my fourth time. I have been working a lot, and I have had not time to watch contest. But this contest means so much to me, because everyone has input so much. There is a wonderful feeling, and there is a good spirit, even in Finnish National selections, when everybody meets each other and everybody is in good mood. We are supporting each other".
Sani wondered, if this is Doctor, Doctor was the right song for this contest, when she heard it for the first time: "I had also one strong and slow ballad. And I am a romantic person anyway. I listened to many other songs too. Then I found that dance-pop woman in me again. And I have done that kind of music earlier, so I thought, why not this song. I have such a great group here with me, so everything feels better and better now."
Sani expresses her interest to go Moscow: "I would like to go Moscow, because I have never visited there. In fact I have not dared to travel there. But I have heard there is very magnificent. I believe also in that Eurovision Song Contest is very big spectacle."
Otherwise Sani is acting Tampere Theatre. "I have a musical Cabaret act, and the other play is called as Hullu kuningas, which got its premiere last week. I am also doing an album and giving performances. Including this Eurovision Song Contest's Finnish selections, I do not remember, when I have had such a busy January."
Sani is to record a solo album. She does not know, if it will be in English or Finnish. There are some songs already written, and she would like to sing Finnish version of her entry. She wishes that people could be happy, although people are talking about economic recession.
"I hope that people would trust to the voices of their heart, which might give good start to Moscow. Remember that all make their best", ends Sani.
PASSIONWORKS FEAT. TONY TURUNEN
"There are traditions with the Eurovision Song Contest. I have nostalgic feelings for it, because I watched it a lot in my childhood. I was a child in the 70s, and there were neither music programs nor music channels on television. The greatest thing was ABBA. It has been the BIG thing in my life. I feel that circle has been closed, when I am now here. I got my musical wakening in early childhood. This is a big honour to be here, though the whole contest has been changed. I must say that I have not watched the contest in last few years because the level of the songs has been getting worse, but basically the feeling is positive", says Harriet "Harry" Hägglund, the lead singer of Passionworks.
"I have traditional relationship to Eurovision Song Contest. I was a child in the 80s. And in the end of the 80s I started to watch the Eurovision Song Contest. It means very much to me that I can be here now. I am grateful to Passionworks, because I have to get my face familiar in the music world", says Tony Turunen, who is featuring with Passionworks.
Harry has some Eurovision Song Contest entries in her memories. "Waterloo by ABBA is my absolute favourite, but Ne partez pas sans moi by Celine Dion (Switzerland 1988) is also a favourite. I remember also the twins Sophie & Magaly, who sang Papa Pingouin (Luxemburg 1980), and specially their costumes", tells Harry. Tony mentions that he likes Leave Me Alone by Hanna Pakarinen (Finland 2007).
Harry tells about their entry. "Kristian Pihlajaharju has wrote this song a few years ago. He asked me to compose it with him, so I did the interval. Then we got to write lyrics and the arrangement. But this is not a traditional Eurovision Song Contest entry, because it tells about domestic violence and it is based on real life. It is not any fairytale, but it has come direct from the heart." Tony heard the entry in September, but it was not then ready yet. "It is more pompous than I expected", says Tony about their entry.
Tony visited Moscow last winter on his sister Tarja's tour. "I am not keen to go to Russia, but if we will be selected, I am willing to go there. I have absolutely nothing against Russia", says Tony. Harry has not been in Russia, but she mentions the Kremlin, Red Star and churches and her will to visit the big city.
In daily life both singers have jobs. Tony has  shift work in logistics, and he is working on musical projects. He might even participate in his sister's new album. Passionworks should be creating their new album, but they have not had time to. Harry wants to thank the press and the Eurovision Song Contest fans: "I appreciate very much that you have kept this institution, because Eurovision Song Contest suffered from lowering image. Especially fans have been faithful to that thought. I respect them very much."
REMU
This colourful artist was busy and he gave short interview to Eurovisionary.com. "Let's say that every war must be found out. I have experienced Nuijasota etc. This is kind of puddle of the water, which I have to find out."
Remu tells that his song was created in the moment, at a recoring studio. "We went to studio, I started to sing and one guy started to play instruments – and that was it! It was nice." He also tells about his thoughts of Moscow: "Moscow is big city. It is like Mekka."
WALDO'S PEOPLE
Karoliina, the female vocalist tells that the Eurovision Song Contest is very important, because there are not too many music events. She has watched them, and even participated. Waldo tells his opinions: "If somebody would have said ten years ago that I would participate to Eurovision Song Contest, I could have sent her/him to care. But now one things has led to another, and here we are!"
"We had another song still one week before deadline, but often there will come other, better song. When our producer sent us this song, we knew that it would be the right one. We knew that this is kind of song which we can take for participation. Our song has power in its lyrics, so it is not usual dance-pop. But this is a party song, because we are party band", tells Waldo. "There are always sad situations, but that is life", adds Karoliina.
Karoliina talked about her feelings on their entry: "It is a wonderful song to sing and I performed it a couple of times. It is wonderful to notice, how they got the feeling and energy from it." Waldo admits that the audience really has taken it to their own favourite.
Both Karoliina and Waldo have visited Moscow many years ago. "But we are excited, because there is so much input for the Eurovision Song Contest. It would be great to represent Finland!"
Both singers are delighted on how much press and Eurovision Song Contest fans have set to this. "Keep up and good work", says Waldo.